RickyRadio
Click a Fett For
a Special Message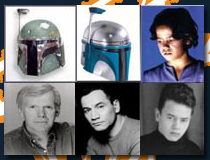 Links
Best Of My Website
Tuesday, December 18, 2007
I went to my second ever Hockey game tonight...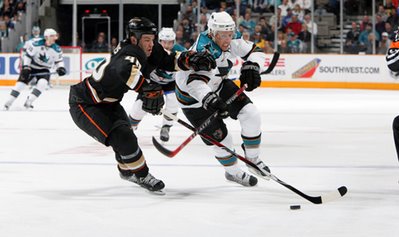 The first game I went to was about 9 years ago, and all I remember is that the Sharks played the Kings, and won. I was given free tickets at work today, so tonight I went to watch the Sharks play the Ducks. Now look. I consider myself to be an extremely knowledgeable person when it comes to sports. For not following Hockey at all, I knew most of the players playing tonight, and most of what was going on. I said

most

of what was going on.

There were times during the game where I felt like I was a Russian foreign exchange student in the US, sitting in an AP Honors English class. People started cheering and booing at things that I would have otherwise not cheered or booed at if I was watching the game by myself. There is a guy on the Ducks named Chris Pronger, and apparently everyone hates him. Every single time he had the puck, the crowd booed. After about the third time he got booed when he had the puck, I pulled a Brick Tamland and started saying "WHAT ARE WE YELLING ABOUT?!" and "LOUD NOISES!!!!!". The two women in front of me were kind enough to tell me that "Chris Pronger is a major asshole. Everyone hates him". So I figured I'd go with the mob mentality and boo him too.

Our section was right by the mens restroom. So after the second period I figured I'd go use the facilities because the intermission is 17 minutes. Well, me and about 461 other guys had that idea. But I had to go. So I braved the line. Now look. All of my life I've been the guy that urinates in the sit down toilet stalls. I cannot piss while I'm standing next to another guy. I need my privacy. Until tonight. When I finally got into the bathroom, there was another line a mile long to use one of the private stalls. I figured it's high time I get over my little phobia, and use the urinals. BIG MISTAKE. I unzipped my pants and waited a few seconds. Then I waited some more. After what felt like about 3 hours of nothing coming out despite having a full bladder, I

almost

zipped back up and quit my losses. But I stuck with it. Finally after about 8 years, a little pee started dribbling out. I was SO happy that I looked down to witness this momentous occasion and guess what happened. The pee stopped. I'm serious people, this is no joke. I had to look back up at the tile above the urinal and start thinking about cars and sports and stuff so I could start peeing again. I will NEVER use a urinal again. There are some guys that can piss while standing right next to other guys, and there's guys like me who like to piss in private.

Not only did the Sharks lose tonight, but I also lost a battle to the greatest nation on the planet. Urination.
posted by Ricky @
10:59 PM