RickyRadio
Click a Fett For
a Special Message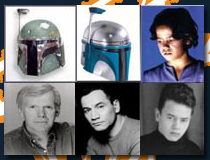 Links
Best Of My Website
Tuesday, May 06, 2008
I had the coolest dream in the world last night. IN. THE. WORLD.
Meaning, no one else on Earth had a cooler dream than me.


Everyone who knows me knows that my favorite band is The Prodigy. And if you didn't, now you do. The lead singer of the band is that man, Keith Flint. Best guy ever. Seriously. Anyway, here's a rundown of my dream last night... I was covering The Prodigy for some sort of news outlet. Maybe it was print, maybe it was television. Who knows. Who cares. All I

do

know, is that I was assigned to cover The Prodigy, and specifically, Keith Flint. My entire dream was Keith and I hanging out. In Europe. Because that's where The Prodigy is from. Keith and I went on a long above ground subway ride, and I interviewed him the whole time. Then we stopped at a pub where he bought me a beer, and our conversation continued. After that, he took me to meet the rest of the band, so I could interview them. It was extremely realistic. I mean you know those dreams that you SWEAR feel real? Well this was one of them. It also felt like I was dreaming this dream for hours and hours. There's a lot more hazy details to the dream, but I'm having a hard time recollecting them all right now. I just know that when I woke up I was extremely disappointed, and actually kind of surprised that it wasn't real.

The end.

posted by Ricky @
9:03 AM