RickyRadio
Click a Fett For
a Special Message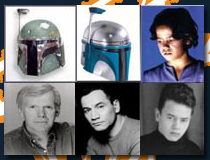 Links
Best Of My Website
Monday, July 28, 2008
Tomorrow night the Flag Football season starts...



And I just let Nicki know that she sleeps next to a champion. While she was in bed, I stood over her, flexed, then put my face about negative two inches from her face and said in a Texas accent, "Honey I just wanna let you know, you sleep next to a champion. Eight and Oh (zero)."

See, I'm kinda nervous about the game tomorrow night. To be a starting quarterback on a team is a tremendous responsibility. Not only that, but as team captain, I'm responsible for making sure the morale of the team is where it needs to be, and that my guys are happy and content. A man with my mental and physical gifts cannot afford to be complacent about such things. A man with my mental and physical gifts has a responsibility to his other teammates to set the tone of the game.

All of that aside, I guess the thing that is keeping me up right now, is the possibility that there may be some college scouts out there at the game, looking for the next big thing. Now look, I don't want get ahead of myself, but lets just say I have it on good authority that there are going to be some big time coaches and scouts from some Division 9 colleges at the game. And I do NOT want to disappoint. I've had a rigid two day a week (not to exceed 5 days in a 14 day span) workout regiment. Along with that grueling routine, I have been on a very strict diet which does not allow me to eat snacks after midnight, while also cutting my soda consumption to a meager 6 liters a week. Combine those things with my 5 minute study session of the league rules, and you've got yourself an athletic and cerebral phenom. I feel sorry for whatever team we play tomorrow night. I predict the score to be 25 to -4.

Team ALL-IN has had two practices. And I think in those 3 hours we spent together, running plays and getting to know each other, we've really come together as a unit. Our first practice was kind of all over the place, but by the end of our second practice, I only had to explain "American football" to my teammates twice.
posted by Ricky @
11:27 PM