RickyRadio
Click a Fett For
a Special Message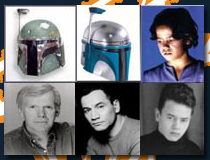 Links
Best Of My Website
Sunday, July 13, 2008
Well, the culmination of all of my lifes experience has come to this...





I've finally decided to answer God's calling in my life, and become a pastor.

I'll go ahead and let that sink in for a second.

Yup. Not a joke. Still need a minute? Ok.

Well, now that you've had a minute to digest that, I'll tell you a little more about my decision, and why it's the most clear and peace of mind decision I've ever made. Since I was 16, I've had 22 jobs. 22 jobs in about 15 different fields. I've waited tables, been on television, been a janitor, installed phone systems, fixed computers, sold stuff and been a youth counselor just to name a few. But with every new job I ever took, came the same feeling as the last job. And that was the feeling that I honestly had no desire to work my way up the ladder, or attain a title like CEO or Supervisor. In fact, I've never been promoted in my life. Not once. I just always had this feeling inside of me that I honestly didn't give a rip about any of the jobs I've had, in terms of making it a career.

But I always struggled with why God had given me the desires, skills and dreams of being an actor/writer/producer and entertainer, but not the desire to move to Los Angeles or New York. I had opportunities to. But I never wanted to take my family, or myself away from my parents and siblings and cousins. I would always have these internal discussions with God and ask him why he gave me all of those things, but not the desire to move and give it a chance. Along with my desires and skills to entertain, I've always had a deep love for my fellow man. Nothing, and I mean nothing, gives me more pleasure or makes me feel more alive than helping someone out. Whether it be through encouragement, through gifts, financially, giving advice or just listening, I've always loved and felt like communication was a powerful gift I've had.

Unfortunately, I have been pretty prideful my entire life, and thought I knew better than God what I needed to do with my life. But I'd always had this small voice inside of me saying "What about what I want you to do? What about becoming a pastor?" And when I say small, that's what it was. It wasn't this loud, overbearing revelation type experience that some people talk about where they just felt like since day one, they knew they were called to ministry. Mine was a quiet whisper. And I had mastered the art of tuning it out. So I never really had a problem with not answering.

Well, 6 weeks ago I was laid off from the 23rd job in my life. Again, I decided to ignore that voice when I was laid off, and instead immediately hit up craigslist, sacbee, journalismjobs, jobstar, goldvalleyjobs and about 5 other websites daily, in order to find another job. I was determined to provide for my family. But a funny thing happened. I applied to 52 jobs in the last 6 weeks. Jobs I am qualified, under qualified, and overqualified for. Guess how many have got back to me?

Zero.

My rent was due Thursday. I had negative $65 in my bank account. My rent was is $1700. I have no job, Nicki's paycheck was $188 and we already used it, and she wasn't getting paid again until the 20th. We refused to ask our parents for help. We'd done that each month since moving up here. We were in dire straights. I went to Church for a class on Wednesday night. Long story short, after church my pastor asked if how things were going and if we needed any help. Instead of being prideful I told him our circumstances, and he wrote a check right there for $1000. Keep in mind I've been going to this church for 7 weeks. It takes me longer to beat a video game, than I've been attending that church. Later that day, a friend of mine emailed me and said he'd had a pretty good month at his job, and mailed me $100. Meanwhile, I had also called my old church in Fremont to ask for help, and my old pastor said to meet him Friday morning and the Church would give me $500. Do the math. That's $1700. Amazing.

So I drove out to Fremont Friday morning, and had a meeting with my pastor. He asked me how things were going, and I was honest with him. He asked me what my plan was, and I told him that I was going to keep on keeping on. Then he said something to me that changed my life. He said "I've known you 7 years, and in those 7 years I can't think of a better person I've met that has the potential to become a great pastor". It'd take me another 4 hours to write everything else he said and the things we discussed, but that was it for me. My moment had arrived. I knew then that there was no better job for me on Earth, than to become a pastor. Not only that, but he explained that as a pastor of a Church, I could use my love and passion for entertaining/writing/editing and so forth, as a pastor. Now I consider myself a pretty smart guy, but I had never put all of that together.

The last thing my pastor asked me to do before I left Fremont, was to ask my wife and my mother, the 2 people closest to me about what they thought of my revelation. So what I did instead of coming right out with it to Nicki and my mother (Nicki on the phone, and I took my mother to lunch) was posing this question: "What job or career, considering all of my skills, passions and desires, do you think would suit me best?" Without hesitation, both my wife and my mother said "Well, I've always thought you'd make an amazing and wonderful pastor. I've always thought that".

I didn't need any more affirmation. I knew that I knew that I knew this was it. I had FINALLY found the ONE job/career that I've been made to do. All of my life's experiences, my joys, sorrows, screwups, triumphs, friends, enemies, family, former jobs and everything else that's happened to me in the last 30 years has been preparing me for THIS. THIS IS MY CALLING. I've never felt more sure or peaceful about any other decision in my life. It is unbelievably calming to know that I will NEVER, NEVER NEVER NEVER have to go job hunting again. I'll never have to sit behind a desk all day doing something just to pay the bills. I'll never have to wonder what my purpose in life is while doing some horrible job that isn't developing or progressing my skill set. I feel like I won the lottery. I cannot wait for August 28th when I begin classes at William Jessup University, just 2 miles from my house. It's the premiere Bible College on the west coast, and it's 2 miles from my house. I knew we were supposed to move out here. I just thought it was for Nicki's job that she's at. I would have never imagined in a million years that the reason we moved out here was actually for MY future.

It's going to get bumpy from here. Becoming a pastor is not a decision I made while on cloud 9 or while I had my rose colored glasses on. I know the kind of life I have to lead. I know the kind of sacrifices I have to make now.

I know the kinds of things people will say about me and judge me.

I know the kind of hard tests (I'm not referring to academically, by the way) that I will go through. But I'm ok with all of that because A) I know this is what God wants me to do, and if he is for me, who can be against me? And B) the problem I had with the 23 jobs in my life was that I wasn't interested in them because they had nothing to do with bringing people to Christ. It didn't interest me to climb the corporate ladder ever, because I knew the top wouldn't be high enough. Being a pastor leads to changing people's lives and introducing them to Jesus, who can give them eternal life. No amount of money, stature or fame can rival that.

Pray for my family and I. We're all in this together, and we're going to need all kinds of support to get us through the next 3 to 4 years while I'm in school.

One last thing my pastor pointed out to me before the breakfast was over. He made note of the fact that I, at 30, am just starting my ministry. He then reminded me about another person who started

his

ministry at 30. His initials are JC.
posted by Ricky @
9:25 PM