RickyRadio
Click a Fett For
a Special Message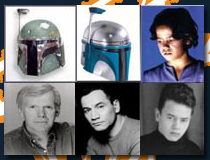 Links
Best Of My Website
Monday, July 21, 2008
I'm pretty sore right now because I had football practice yesterday...



Yeah that's right. FOOTBALL practice. I've only lived here 7 months, but I gathered 11 guys I know (alright, a few of them I don't know because they're a friend of a friend) and formed Team ALL-IN, Roseville California's PREMIERE Flag Football team. Our first game is next Tuesday night. Some have said we're the New York Giants of the Flag Football world. Just a solid bunch of over achievers that work hard, play hard, and get the job done. (Alright FINE, no one said that.)

We had our first practice yesterday. It was brutal. I've been swimming and doing cardio for about 5 months now, losing weight and getting in shape, and even I'm sore today. So I can imagine how much more sore the rest of the guys are. In fact, I know, because they called to tell me. Thing is, we didn't stretch. We didn't warm up. We just went out there and slung it. We scrimmaged for about 25 minutes, and then did some drills for the next hour. There were guys diving, falling, jumping, spinning and doing everything else you'd imagine a group of late 20-somethings, early 30-somethings and one 40 something doing. It was hot and bright, but like true warriors, we practiced until it got too cold.

At my age, the game has really slowed down for me. I'm seeing things on the field at a slower pace than I think most of the other guys see it. I recognize defenses faster, read blitzes quicker, and I'm able to audible at the line in any given situation, in order to call a hot route that will surely give us the advantage. (Alright, none of that is true either, but I've always wanted to say that. Especially the "game has really slowed down for me" line.)

Since I love video games so much, I came up with a hot route system based on them. If I look to my left and say 3 pac-man, that means the third guy from my left does a slant. Looking to my right and saying the same thing, the 3rd guy from me would do the same. Here's the breakdown of the audibles. Just in case you were wondering. (I know. None of you are wondering).

Pac-Man = Slant
Centipede = Seam/Streak
Frogger = Post
Dig Dug = 5 and out

Anyway, it's 7 on 7. I'm probably the smallest guy on my team. Which means I'll probably be the best. Because that's how life works. I plan on posting our stats every Tuesday night after the game, and possibly some video clips as well.

Peace out Napoleon.
posted by Ricky @
6:06 PM