RickyRadio
Click a Fett For
a Special Message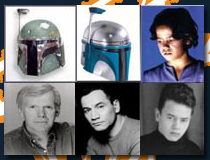 Links
Best Of My Website
Tuesday, September 16, 2008
The plight of my flag football team.


I have dreamed a dream, but now that dream is gone from me. Back in July when I found out that the city of Roseville had an adult-male flag football team, visions of touchdowns and wins danced through my head. I didn't know very many people here in Lincoln. But I did know a few guys who knew a few guys. I should have realized that the ordeal it took just to collect the money from the guys in order to pay for the league dues was a sign to QUIT.

Fast forward to the first week of the season. I had myself and 11 other guys. We played hard, but lost a close game. I was really excited and looking forward to the next week. Then the wheels fell off the bus. The original guys from my team were as follows: Ricky, my friend Dan that I've known 18 years, my friends Justin and Mike that I've known 5 years, my friend Nolan that I'd met about 3 months prior, his friend Jason and Ryan, a guy Craig that bought my PS3 from me back in April, his TaeKwon Do partner Cedric, his cousin Anthony, a guy named Eddie that was a friend of a friend, and his friend Walter.

After the first game of the season my friend Dan quit. For no good reason. That sucked. A week later we had a practice on a Sunday night, and Jason tore his hamstring, out for the season. Walter's friend Tom replaced Jason, so we were back at 11 guys. The next game Walter and Tom no showed without calling. The next morning Walter called me to tell me he decided to move to Oklahoma with Tom for a business opportunity. He left that morning. We were now down to 9 guys. (We need 7 to play). A few days after Walter and Tom left town, Eddie stabbed his hand while drunk and trying to cut a tomato. He's out for the season too now. We were now down to 8 guys. The next game Craig got sick, and was unable to play, so we played with 7 guys and no subs. We lost.

My friend Justin then enlisted his roommate to play in the next game with us, and he also enlisted his friend Mark. We still lost the next game, but I felt like we were having fun and getting better again. The next game a couple of guys no showed and no called, and Ryan, arguably our most football intelligent player, and all out beast, tore his ACL and MCL on the first play of the game. Out for the season. The next day, Chris, Justin's roommate that played with us the night before, sprained his ankle while playing with his neice. So he was out for the season too.

Last week only 6 guys showed up. We were supposed to have 9, but 3 guys called me and or text messaged me about a half hour before the game letting me know that they weren't going to be able to make it, for various reasons. We had to forfeit, which costed me $10 because I am the team captain. However, it turns out that the team we forfeited to, has also had commitment issues, and were down to 7 guys themselves. The captain of that team and I talked after the game, and decided that when the new season starts on October 21st, we will be combining teams. So that's cool I guess.

Anyway, I've gone from making video's for my flag football experience, to being completely underwhelmed and tired of hearing excuses along with the lack of commitment. (I realize that a few cases of people not being able to play were completely understandable and truthful) What I don't understand is how you can pay $50 to play for ONE hour on a Tuesday night, and be THAT uncommitted. I am thankful that a handful of guys have been to every game and practice, and are sincerely having a good time.

So there you have it. It's literally been one thing after another. We have a game tonight in 90 minutes, and along with giving everyone a printed schedule with highlighted start times, I also email them and text message them to remind them. I honestly have no idea who's going to show up or not. One thing is for sure. I'll be there.

And by the way, "The Assassination of Jesse James by the Coward Robert Ford" is an EXCELLENT movie. I'm watching it right now as I type this.
posted by Ricky @
6:04 PM