RickyRadio
Click a Fett For
a Special Message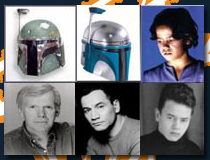 Links
Best Of My Website
Saturday, December 27, 2008
It's A Wonderful Life...

It's been a wonderful Christmas. I've never experienced the kind of connection with God that I have had this Christmas, and it came from being completely broke (financially). Nicki and I have had a really hard 2008 in terms of finances. Long stories short, I was laid off, her job didn't pan out, I started school and she started a new job. We didn't have money for a Christmas tree, gifts, or anything. And through all of that, God was able to allow me to focus on the real meaning of Christmas, him.

Because of my appreciation and gratitude towards his provisions in my life, I decided to preach during Christmas Eve, to my family. I kind of felt God telling me that he wanted me to say a little something, but I had no idea what. Fast forward to Christmas Eve, I found a few hours alone at my mom's house, and wrote a message. I still wasn't sure if I was going to go through with it or not though, because as you can imagine, talking to your family about religion and things isn't exactly sugar plums and candy canes. But I did it anyway, and out of that obedience, something wonderful happened. After I gave my message, my cousin's girlfriend

gave her life to the Lord and became a Christian.



I had to walk to my mother's house next door to get something, shortly after Kristen became a Christian. And as I walked, I had the most incredible realization. That despite not having any money at all for Christmas, despite not being able to give any gifts to anyone, I was able to give God a gift, my obedience, which in turn brought Kristen home to Him. It was a really beautiful moment for me. And now, I'd like to paste the message I gave below. It's as I wrote it, with notes to myself and things like that in it, so I'm sorry if it's a bit confusing. I just wanted to share this story with you all because you never know what can happen if you remain open and obedient to God. There isn't a gift on earth that has equal value to Kristen becoming a Christian, and I am so thankful that God used me this holiday season bring me closer to him and realize the true meaning of Christmas:

It's not about gifts, but it is about a gifts.


Talk about not having any money this Christmas, and how it forced me to truly put into action the words that so many of us say every year around now, and that is "Jesus is the reason for the season". I can barely remember what I got for Christmas last year, let alone years past. I can barely see my penis anymore because it has shrunk by a huge margin, it's bad but I'm dealing with it. remember what I've bought people in years past either. Every year around the end of November, we all partake in the same tradition. The tradition of shopping till you drop. The tradition of spending more than you should. The tradition of trying to get that one last gift on Christmas Eve before the store clothes. Traditions that bring us away from the real meaning of Christmas. Now don't get me wrong, had we had money this year, we would have been doing the SAME thing. But I believe God wanted me to learn something about him this year by taking away the most common way for us to lose focus of what Christmas means.

By the way, just so we're clear, December 25th is not the day Jesus was born. Most scholars think he was born in the later months of the summer, around September and October because the shepherds were still tending their sheep at night. It would have been far too cold in December in Bethlehem for shepherds to be tending their flock. December 25th was just a day that some other "gods" were said to have been born on, so that's how it was chosen.

And while we're at it, you would think that Jesus was born in 0 AD, right? BC meaning before Christ, so the natural thought is that the day Jesus was born would be 0, because in 500A.D. a Roman Monk named Dionysius Exiguus The creator of the AD timeline) miscalculated the date of birth when he was preparing a calendar to calculate what days future Easter's would take place on. By the time people caught the mistake, it was far too late and it was not corrected.

Moving on.
It's not about gifts, but it is about gifts.

So does anyone know the first mention of Jesus in the bible?
Genesis 2:15
"And I will put enmity between you and the woman, and between your offspring (a) and hers; he will crush (b) your head, and you will strike his heel."

Do you know that throughout the entire Old Testament, Jesus is mentioned many times by people who lived hundreds of years before his birth? Did you know that in the book of John, it says that Jesus was with God in the beginning? It's hard to imagine that, but it's right there in the very first sentence of John chapter 1, and the following two verses:

1In the beginning was the Word, and the Word was with God, and the Word was God. 2He was with God in the beginning. 3Through him all things were made; without him nothing was made that has been made. 4In him was life, and that life was the light of men. 5The light shines in the darkness, but the darkness has not understood(a) it.

Any time you hear the phrase "life" or "the light" in the New Testament, it is referring to Jesus. Jesus was right next to God from the beginning, which by the way doesn't mean the beginning of creation, but the beginning of everything. It's beyond our comprehension.

So, what does that have to do with gifts?
Both answers are found in one verse. Does anyone have any idea what verse that is?
16"For God so loved the world that he gave his one and only Son,(f) that whoever believes in him shall not perish but have eternal life.

Ask to hold Kayla and Brielle.
Now, I don't think anyone in this room would doubt that I love my two girls with all my heart. I don't think anyone in this room would doubt that I wouldn't do ANYTHING for these two girls. I would lay down my own life for them if I had to. I would do anything possible to ensure their safety, and well-being. I love these girls more than I love my friends, Star Wars, video games, my wife, myself and so on. These girls mean everything in the world to me, and my life would feel incomplete without them.

But I'll tell you what. I don't love them the same way Jesus loves them. I don't love them the same way Jesus loves me. I don't love them as much as God does. And you want to know why I know that? Because I could never do what God did. I could never offer Kayla or Brielle's life to pay for my sins give me eternal life. And more than that, more powerful than that, I could never give Kayla or Brielle's life to pay for the sins and grant eternal life to billions of people I've never met across the earth. People that not only do I not know, but people that despite my giving of Kayla or Brielle's life to pay for their sins, the majority of those people would still choose to deny the fact that my daughter's life did in fact pay for their lives.

And that's exactly what God did for us. He gave his ONLY son, so that we may have ETERNAL life. Are you following me here? Christmas isn't about gifts, it's about gifts. Two gifts, specifically. The gift of God, Jesus Christ being born on earth as a human, giving up his power and authority in heaven to do so. And the second gift is the gift of HIS life, for our sins, so that we may have eternal life. That's what Christmas is about. That's why we gather as a family to open gifts and love on each other. To celebrate those gifts.

Having no money this year has afforded me the luxury of really being able to attention to the awesome gift that God gave us, by sending his son. And I know we're all family here, I know we all love each other. But the truth is, I don't know where all of you stand. I don't know if all of you have accepted Christ as your personal Lord and savior. I think it's assumed that all of us have, but the truth is that I don't think any of us could stand up here and go person by person, verifying whether or not that person has accepted Christ. And if you haven't, I urge you to do so. I pray that you're able to see the real meaning behind Christmas, to see the real gift we can take home tonight. And you know what the best thing about that gift is? It's free. You don't have to do anything except ask Jesus into your heart. I want to be in heaven with all of you. I want to know while I'm here on earth, that my entire family is saved.

In closing, I'd like to point out a passage that talks about the glory of the God we serve, Jesus Christ. It's from a book in the bible that people don't read from that often because it's full of crazy imagery. The book of Revelation. This passage is talking about the return of Christ, otherwise known as the second coming, when he will take all of his believers back to Heaven with him, from earth.

11I saw heaven standing open and there before me was a white horse, whose rider is called Faithful and True. With justice he judges and makes war. 12His eyes are like blazing fire, and on his head are many crowns. He has a name written on him that no one knows but he himself. 13He is dressed in a robe dipped in blood, and his name is the Word of God. 14The armies of heaven were following him, riding on white horses and dressed in fine linen, white and clean. 15Out of his mouth comes a sharp sword with which to strike down the nations. "He will rule them with an iron scepter."(a) He treads the winepress of the fury of the wrath of God Almighty. 16On his robe and on his thigh he has this name written:

KING OF KINGS AND LORD OF LORDS.


17And I saw an angel standing in the sun, who cried in a loud voice to all the birds flying in midair, "Come, gather together for the great supper of God, 18so that you may eat the flesh of kings, generals, and mighty men, of horses and their riders, and the flesh of all people, free and slave, small and great." 19Then I saw the beast and the kings of the earth and their armies gathered together to make war against the rider on the horse and his army. 20But the beast was captured, and with him the false prophet who had performed the miraculous signs on his behalf. With these signs he had deluded those who had received the mark of the beast and worshiped his image. The two of them were thrown alive into the fiery lake of burning sulfur. 21The rest of them were killed with the sword that came out of the mouth of the rider on the horse, and all the birds gorged themselves on their flesh.

THAT is the Jesus we serve.


posted by Ricky @
2:47 PM