RickyRadio
Click a Fett For
a Special Message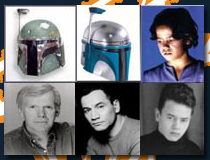 Links
Best Of My Website
Thursday, August 18, 2005
Confessions/Admissions


Okay, here are some things that you may not know about me:

1. I don't exactly turn the radio off if Michelle Branch or Kelly Clarkson come on.
2. I hate the show "Seinfeld". Never seen a full episode from start to finish, but enough snippets to know that I don't like it.
3. I've never had a cup of coffee. I've tried a sip, and it tastes horrible.
4. I've never drank a beer. I can't stand how it tastes. And on that note, I don't like my drinks to taste like alcohol. The more they taste like Kool-Aid, the better.
5. I hate golf. Hate.
6. Dukes of Hazzard is the worst movie I've seen in recent memory. It was like a 90 minute triple crotch punch.
7. Sometimes I imagine myself being in a movie during certain points during the day and saying something to someone who's rude, followed by a roundhouse kick.
8. The commercial that's on right now said "Everyone's crazy about the Dukes of Hazzard!" Apparently they didn't bother to ask me.
9. I may very well be the youngest looking 27 year old ever.
10. My middle toe on my right foot is the longest toe on my foot. It looks odd.
11. I love techno music and wish I was a raver. I'd put one of those glowy things in my mouth all night, and have people touch my hands.
12. I don't take good notes. I just try and retain as much as I hear. Along those lines, I need to do stuff "hands on". It does me no good to sit in a class to learn how to do something. But that's just me.

That's all for now. Good night.

posted by Ricky @
9:38 PM