RickyRadio
Click a Fett For
a Special Message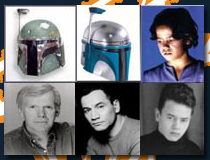 Links
Best Of My Website
Tuesday, August 21, 2007
The Internet Age has made horrible spellers out of our younger generation....

I'm online a lot. And I visit a lot of video game and movie websites where a lot of teens post things. The internet, instant messaging, text messaging and informal emails have made our younger generation a bunch of horrible spellers and writers. It is BRUTAL sometimes when I'm reading some of the forum posts, trying to decipher what the hell they're trying to convey. The thing that really drives me crazy about it though, is that most browsers nowadays underline wrongly spelled words in red when you're composing the message. There is really almost no excuse other than laziness, why this younger generation doesn't take the time to learn how to properly spell things and use correct grammar.

/rant

(not that my grammar is ALWAYS perfect, but it is MOSTLY perfect)

Addendum: I've started a war with this topic. Click here.
posted by Ricky @
10:11 AM