RickyRadio
Click a Fett For
a Special Message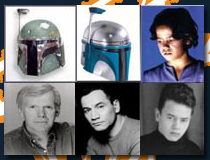 Links
Best Of My Website
Saturday, September 01, 2007
New Design is giving me fits.


The sad thing is that I've been doing the redesign for my webpage for over 6 hours now. The first 3 hours were spent trying to recover my entire website after I accidentally deleted all of the settings. Anyway. I'd be happy as a blind man at a "learn to see out of your nipples" convention if I could just figure out how to get that gray background removed from my header image and nav bar at the top of the page. If someone was holding a gun to my family's head and told me I had to fix that or they'd all die, I'd be living the single life again.

If you have any suggestions, please let me know. I've spent over 3 hours trying different ways to get it to work. It's 12:45. I give up. I can't anymore. My pancreas.

In other news, I applied for a job that if landed, will be the best job I've ever had. It's in Sacramento. I want this job almost about as bad as I want to watch Jessica Biel to come over to my house and tell me that she's been reading my website, seen my pictures, and wants to not only marry me, but be my servant.

Almost

as bad I said.

Nicki is asleep, snoring, on my lap right now. Sometimes when I stay up late she kinda sleepwalks and will come find me wherever I am (unless I'm hiding in my special place) and want a hug. Then she'll just kind of doze off and I'll have to carry her to bed. But considering she's about 160 pounds right now carrying my child, I think my only choice is to leave her here on the couch.

My record in All Pro Football 2K8 is 27-29 right now. But, the last two weeks I'm 15-3. I had a team full of overpaid and under-talented selfish jerks on the first team I created. Then I switched things up a bit, fired the coaches, got better looking cheerleaders and picked up some studs. I'm virtually unstoppable now. By the way, APF is a video game. Relax mom. I didn't hire cheerleaders.

Umm, I think I'm pretty hilarious right now so I'm going to keep going with this. Kayla had the absolute worst day of her life yesterday. She bashed her head on our bed post, fell and scraped both of her knees, got her hand stuck in the old VCR that we have in our room, slipped on the hardwood floor where she spilled her juice and hit the back of her head when she fell. All in all the Doctor's say she is doing fine and that the uncontrollable drooling should stop around Christmas. Just in time for family pictures.

My fantasy football draft is tonight at 8:30 and I can't wait. I'm not going to pick with my heart this year. I'm in it to win it.

Okay. I just got really tired all of a sudden. Good night.

posted by Ricky @
12:42 AM