RickyRadio
Click a Fett For
a Special Message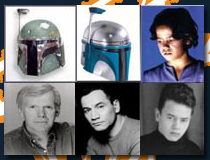 Links
Best Of My Website
Wednesday, January 02, 2008
Today couldn't have gone any better. This is the BIG NEWS....

About two months ago when it became time to really start pursuing a job and home in Lincoln (The Sacramento area) I put an ad on Craigslist here. I got absolutely nothing. Not one email, phone call or anything. I ended up finding a job at a place called Goores, in Sacramento, doing IT stuff and a tiny bit of graphic design. But it was mostly an IT job, with a heavy emphasis on data entry and learning some weird program that creates pricing for everything they sell on their website. I was trying to make the best out of things, but I wasn't entirely thrilled about my new job. I was hoping that a few months down the road that they'd give me a different position or let me do more of the graphic design. I was going to do it happily though, and I was thankful that at least I had a job. It was a job that would allow us to move, and give Nicki a month or two to get her practice going.

Welp. Last Friday I checked my email, and I had an email. There was no subject, so I

almost

deleted it without reading it. But I now realize that nothing I did was in my control, concerning this other job. It was from a guy named Bill, who owns and operates a video production facility in Rocklin. They do video editing, video production, green screen stuff, voice-over stuff, audio and video equipment rental and services, and media transfer. (Like 16mm to DVD). Basically, they do everything that I love. The website is here, btw. So Bill and I traded emails back and forth a few times, then he told me to call him. We chatted for about 20 minutes, then he asked me to come in Wednesday the 2nd. That was today.

I got there are 12:32 because I'm always early or on time. Remember that people. Being late is a CHARACTER FLAW. Anyway, I met with Bill for about 45 minutes, then interviewed with 2 other people. Bill had told me that they were going to interview 3 more guys, and that he'd let me know about things tomorrow night. So I left feeling pretty good, but still a little nervous that there were 3 more guys interviewing for MY JOB. I went to a little Italian place (not little like the doors are small and they have kiddie tables) and ordered my Chicken Parm. I always pray before I eat, so I said "God, please let me get this job. It would be a dream come true." And as soon as I opened my eyes, I am not kidding you, my phone rang. It was Bill. He wanted to know if I was still in the area. I told him I was, and that I was eating then going to go to my new house to unload a few breakables. He said "Well good, why don't you come on in before you go home. We all thought you were awesome, and told the other 3 guys to not even come in. How would you like to work for ATV?" I was shocked. I was so happy that it took me a few seconds to respond to him. I of course said yes, then immediately called Nicki. I told her the great news, and it took all I had in me not to start crying from happiness inside of that restaurant. I just felt so overcome with joy, happiness and thankfulness that I got to the brink of tears.

I went back to ATV and sat with Bill one more time. We went over the job in more detail, and he told me he's just as excited to have me there as I am to be there. This is only the second time in my life that I landed a job that made me as happy and excited as I am now. I am

so

happy to be working in the field that I love, that I just know I'm going to do great things there. Incidentally, the last interview I had there today was with a girl named Anna, who as it turns out is a Christian, and told me that Nicki and I should try out Bayside Church in Granite Bay. Which is the same church the girl we're renting the house from, told us as well.

And last but not least, on my last day of work at Pump It Up on Monday, I found our cat dead in the middle of Mission Blvd, right by our house. (Sorry about all the commas in that last sentence, but YOU tell me how I should I have written it better) So after work on Monday he had been moved from the middle of Mission Blvd, to the gutter. So I went home, put a box together, and got some gloves and stuff. I went to the side of the road where he was, and put him in the box, then took him to the big dumpsters and said a few kind words about him and threw him in.

Or so I thought.

Tonight around 7:30, I thought I was going crazy because it sounded like Jettster was outside our door meowing.

He was.

So I either buried the wrong cat, that was his EXACT clone, or I buried him at Stephen King's Pet Semetary.

posted by Ricky @
8:32 PM