RickyRadio
Click a Fett For
a Special Message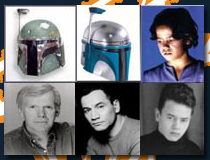 Links
Best Of My Website
Friday, February 29, 2008
I'm left handed.


But I'm almost positive at this point that Kayla is right handed, like her mother. She's also blonde like her mother, has blue eyes like her mother, and LIKE HER MOTHER has began to love "kick". Guess what that is. Yes, the most Un-American of all Un-American sports, soccer. I've puked 17 times in the past two days when I think about Kayla liking soccer. She might as well start liking Nascar while she's at it. Next thing you know, Kayla, like her mother will want to start cracking backs and dating really attractive guys that can't land a decent job to save their life. Kayla also likes to read. And we all know she sure as hell doesn't get that from me. You know, as I'm thinking about it, I'm not so sure Kayla is my daughter. This is horrible.

At least there's still hope for Brielle. She's 4 months old and her hair still hasn't started getting lighter. and when she writes her multiplication tables, she does do them left handed.

By the way, person reading this, your mom called and told me to tell you that you were a mistake. And my Tiger Style Kung-Fu is stronger than your Dragon Style.

My friends call me Nova. As in Casanova....



BMCKMWA. KTHXBYE.



posted by Ricky @
8:06 PM