RickyRadio
Click a Fett For
a Special Message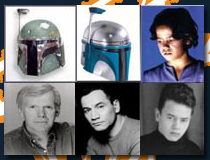 Links
Best Of My Website
Thursday, February 21, 2008
Reports of my demise have been greatly exaggerated. Thank God.



Monday, Tuesday and Wednesday night I was IN BED ASLEEP by 8:30. It was brutal. I would get home from work, (where I was already feeling tired) and then by the time 7pm rolled around, I felt like someone hooked up an energy sucking device to me. Last night my leg was KILLING me (I think because it got cold outside, after it'd been warm for a few days). So I took a bath, then a shower, (because think about it, you just sit in the tub in water that has cleaned your body AND has bath crystals in it. not exactly the cleanest of environments) then got my ass to bed. I was counting sheep within 3 seconds of my head hitting the pillow.

Finally when I woke up this morning I felt refreshed and energized. Maybe I had the 3-day Mono strain. I feel like $858,000 bucks this morning. Not quite a million, but maybe tomorrow I'll feel 100%.

Also, I need to buy milk, but I keep forgetting. I eat cereal (cereally) every morning, except for the last 2 days because I've been out of milk. I

could

use Nicki's breast milk I guess, but.... Anyway, right now it's 10:12 AM and since I didn't eat breakfast AND went to bed at 8:30 last night, it's been a good 15 or 16 hours since I've eaten. The 4 screws on my desk that were from my old hard drive are looking MIGHTY tasty right now.

Oh, and the other day I got in my car. There was a fruit fly in my car. But there was no fruit inside of my car. Does that mean I'm gay because the fly thought that I was the fruit? Allegedly.

posted by Ricky @
9:58 AM