RickyRadio
Click a Fett For
a Special Message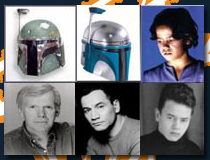 Links
Best Of My Website
Wednesday, February 13, 2008
The most realistic dream I've ever had was last night. I'm wrecked today.

Nicki and I found a great Church last Saturday. The Rock of Roseville. The message that night was full of things I needed to hear, and it really helped me in a few areas of my life. It was as if the pastor had me in mind when he wrote his message. One of the topics he preached on was about wrestling with God. Jacob was going through some tough times, and to make a long story short, he actually physically wrestled with God. God busted him in the hip, and Jacob walked with a limp the rest of his life. Oh, and God also gave him a new name after they wrestled. Israel. (Which means Upright with God.) There's a reason I'm telling you all of this. So bare with me.

After hearing that message, and another portion of it which was God wants to give you the desires of your heart, but he wants you to work for them, he

wants

you to wrestle with him. He doesn't want to just hand over the keys to the Corvette if you haven't earned it. Anyway, after hearing all of that, I prayed to God that "I don't know how to wrestle you God, but I want to. I want a better job. I want to be happy when I go to work. Please let me have that. I'll wrestle you."

Now. Last night I had a bad headache. I went to bed. I had a dream. I dreamt that my sister Amy, my mom, and myself were at an Italian restaurant. My sister ordered Lasagna. She took a bite and said it tasted funny. So the restaurant manager came over, took a bite, and said "Yes, it seems like the meat is rotten". Next thing I knew, myself and entire family were at my mom's house because my sister had died. I was pretty emotional in the dream. Very upset. Fast forward a little bit, and my mom is holding a new baby girl. I asked my mom who it was, and she said "This is your sister Amy". I was confused. So I said "I don't get it. Is she going to grow at an accelerated rate and be 25 years old next year?" (I know, I've watched Attack of the Clones too many times). My mom said "No. I was so sad about losing your sister, that I decided to have a new baby. This is your new sister Amy". At that point in the dream I started getting REALLY upset. Crying, hardly able to walk, etc etc. I layed down on the floor in the family room and crawled to my bedroom.

Now at some point in the dream, I realized I was dreaming. So I tried waking up. But every time I "woke up" I woke up

in

the dream. It was absolutely the MOST real and vivid dream I've ever had in my life. It was real. My sister was dead, and I couldn't wake up.

So, I got down on my knees and BEGGED God to let me see her again. In the dream I said "God, if this is what wrestling you is like, then I'm fine with that. I'll give ANYTHING to be able to see my sister again. PLEASE let me wake up." And right after I said that, I FINALLY woke up. But I woke up crying. Hard. It was 5:38am and I was breathing heavily and couldn't stop crying. I almost called Amy, but I decided not to. I fell back asleep about 20 minutes later, but I was still crying.

So I called my sister around 8:30 and told her my dream. I couldn't even keep it together. I started crying all over again, and I told her I had no idea what the dream meant. Amy started crying too, and we were both unsure of what the dream meant. But to lighten the mood a little bit, I said "Just promise me you won't have Lasagna anytime soon." She agreed.

Today is my mom's husbands' Karls' birthday. Amy lives with my mom. My mom texted me around 9:30 this morning. Here's the text:

Hi everyone. Karls dinner is at 5:30 or 6.

Lasagna

, salad and garlic bread. Pineapple upside-down cake for dessert.



I am now freaking out.

I called my mom and forbid her from making Lasagna tonight. So now she's calling Karl to find out something else he'd rather eat.

posted by Ricky @
10:28 AM