RickyRadio
Click a Fett For
a Special Message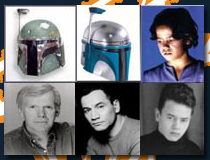 Links
Best Of My Website
Tuesday, February 26, 2008
My friends Matt and Stacey are blogging again.

Apparently the pressure of me calling Matt names made him buckle. He's started a new blog here: http://thelowers.tumblr.com/. Look, we're all trying to network, people. It's all about making a name for yourself. Matt obviously realizes the power of BorbaFett.net and feels that with me promoting his site, he can achieve all of his life's goals. Here is the email he wrote me:

Hey Bud,

While I will never be the writer you are, I was hoping you could do me a favor and promote my blog on your site. If it makes you feel any better, my wife Stacey stopped calling me "Matt" about 6 months ago, and started calling me "Ricky". She also made me buy some cool jackets and Hawaiian shirts. Anyway, if you promote my blog on your incredible website, I'll finally admit that I was born without any reproductive organs.

P.S. Here are some things you may not know about me:
1. I hate the Giants. They suck.

2. For the last 5 weeks, the only thing I've eaten has been fruit roll-ups. Not good. I honestly don't recommend it. My body is not happy with me.

3. Once, when I was 30, I dabbled in "playing for the other team" if you know what I mean. But I'm 30 now, things are different.

4. The reason I don't like video games is because I pee sitting down, and I'll only take baths.

5. When I mention being an "electrician", it's code for "janitor".

- Matt

Then moments after I received the email from Matt, his 1 year old son Quinn emailed me.

Dear Ricky,

It is I, Quinn Cornelius Smith. I have been uncomfortable the last year or so, to say the least. Something has always bothered me when I looked into my fathers eyes. So I took it upon myself to do some independent research into my lineage. My mother, God bless her, would always whisper things to me when I was very very young, like "Don't you worry Quinn, that man over there on the couch in a drunken stupor watching figure skating isn't your daddy. Shhhhhh." I guess my mother thought I couldn't understand her. Moving forward, as soon as I turned 16 (months), I got my drivers license and began spending my days at the hospital where I was born. I interviewed some nurses and the doctor that delivered me. They too, had found it suspicious that I was the son of Matt Smith, since he had privately admitted to being born without reproductive organs. Long story short, while my "father" was in one of his drunken stupors on the couch, I drew some blood from his arm. This turned out to be quite the ordeal, as my syringe kept filling up with Bud Light and buffalo wing sauce. I finally prevailed however, and found just one single working vein, and was able to draw 3 cc's of blood. The DNA results came back last week, and as expected, Matt is

NOT THE FATHER.

I am now on a mission to find my real father. I was given some clues by letters I found in my mothers jewelry box. There are quite a few letters to my mother from someone named "Ben Affleck". I guess everyone really is f@@king Ben Affleck.





posted by Ricky @
7:01 AM