RickyRadio
Click a Fett For
a Special Message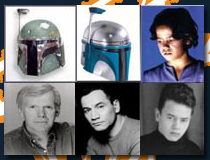 Links
Best Of My Website
Friday, January 25, 2008
I met the Governator.



Wednesday night my new company, ATV, provided the audio and video equipment for the California Health Initiative dinner. Slated to appear as the head speaker was none other than the T-100 himself, our governor, Arnold Schwarzenegger. I wasn't supposed to meet him. I was supposed to be upstairs running the board and making sure the dinner hall was setup correctly for sound and video. But the guy I was working with that night needed me to go downstairs to grab a piece of equipment. So at the exact moment I walked down to the lobby where Arnold spoke, he was walking right toward me.

Now to me, he's Arnold Schwarzenegger, movie star, action hero and impersonation fodder. He's not the governor to me. Well he is, but you know what I'm saying. Anyway, there were a number of things that ran through my mind the moment I met him, that I wanted to say. Here they are in no particular order. And be sure to click the one that is light blue:

Aggghgghhhhoooooarrrgghhhhahh!



Get to the choppa!





These people need air!





You are one ugly MF.



Well I hope you leave enough room for my fist, because I'm going to ram it into your stomach!



What do you think of the new Terminator TV show?



Hey wait right here while I go get a pen for you to sign this,

I'll be back.





Junior is my favorite movie.





Do you watch PBS? I DO.



But, I didn't say any of those things. I just shook his hand, made some small talk, and went on my way. His IMDB bio says he's 6'2", but that dude was 5'10". I'm 5'10", so I should know. And it was confirmed later by his aide, that he wears 3 inch "lifters" in his shoes to make him taller. Whatever those are.

posted by Ricky @
3:08 PM