RickyRadio
Click a Fett For
a Special Message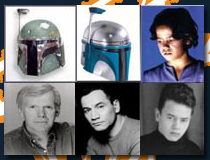 Links
Best Of My Website
Monday, January 21, 2008
I am now the proud owner of a 61-inch Samsung DLP TV.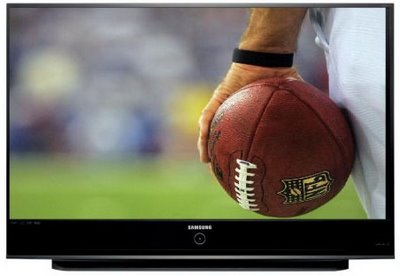 Here's the deal. I had gotten approved for a Best Buy credit card some time back, but never used it. Until this weekend. I had heard of Circuit City doing 36 months of no interest, with a minimum payment of 1%. So I figured I'd mosey on over to the Best Buy website, and see if they had something similar. Sure enough, they did!

As soon as I found out, I ran downstairs and told Nicki, who was breast feeding Brielle. I took Brielle off the boob, and put her in the cabinet. I talked with Nicki about the TV and gave her the ol' "You know how long I've wanted this and how hard I've worked" speech. To my amazement, it

ACTUALLY WORKED

this time! I told her that the minimum payment is 1% for 36 months (Obviously we're not going to only pay 1% every month, because that would take 100 months to pay off) and that there are no other catches.

I had gotten quite a few Best Buy gift cards from my friends and family for my birthday and Christmas, so I used them to help buy the TV. But the

REAL

deal was that I went online and typed in "Best Buy Prtinable Coupons" into google, and found a 12% off Coupon towards any TV or Home Theater. I

ALSO

price matched the TV with Circuit City, who was selling it for $1799, instead of the $1999 that Best Buy was selling it for. You do the math. I got a

FANTASTIC

deal on a TV that is bigger than my Ford Taurus.

Last night we watched Ratatouile on Blu Ray, via my Playstation 3, and the colors and picture were so beautiful and flawless, that I started crying. And the weird part is that my 6-year old surround sound system sounds better in our new house for some reason. After we watched about an hour of Ratatouile, I threw in Star Wars Episode I, and watched about an hour of it with Kayla. She says "OH COOL!" now, so she basically said that phrase about 30 times. It was really neat watching Star Wars with my daughter, seeing her face light up like I'm sure mine did the first time I watched it when I was her age. Thank you Samsung, may God bless you and your family.

So as you can imagine, I will be watching the Stupor Bowl (Stupor because the Giants and Patriots not only played each other 4 short weeks ago, but I HATE both of those teams) in HD on February 2nd. I've also decided that there are no reasons I'll ever need to leave my couch other than for work. My nights and weekends will now be solely consumed by watching massive amounts of HD TV, Blu Ray movies, and playing video games in HD. I've called a plumber and a carpenter, as I'm going to meet with them to see about turning my couch into a toilet on one end and a bathtub on the other. I'll let you all know how that works out.



I've been reminded about 35 times that the Stupor Bowl is on February 3rd. Not the 2nd. Well, that just goes to show how much I care about it.



posted by Ricky @
9:54 AM