RickyRadio
Click a Fett For
a Special Message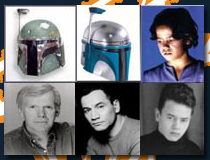 Links
Best Of My Website
Sunday, May 11, 2008
It's 3:17 am right now.

And I'm furious. Because I cannot fall asleep. Nicki and Kayla were sick last week, and now it seems that I have it. It's a head cold, along with a sore throat, and it also drains you of all energy. So why am I still up at 3:17 you ask? Because my nose has been running all day, no matter what I try and do to stop it. Cold medicine. Fail. Afrin. Fail. Sudafed. Fail. Lying motionless on the couch. Fail. Nothing has worked. And since I've been wiping my nose every 30 seconds, which by the way has stayed on the right side of my nose only, my right nostril is all raw, and it stings like a blister. Not only that, but I must have been flexing my mouth muscles all day when I was blowing my nose and what not, because that's where most of the pain is happening right now. It feels like someone is pressing their fists into both sides of my jaw.

This totally sucks. I can't fall asleep. No matter how hard I try. I am NOT having a good mothers day.

posted by Ricky @
3:17 AM