RickyRadio
Click a Fett For
a Special Message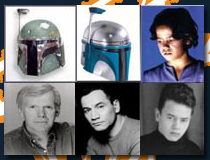 Links
Best Of My Website
Sunday, May 11, 2008
Since I feel like death warmed over...

Hi. I'm on about 5 hours of sleep, and I feel worse than I did yesterday. I just spent the last hour and a half trying to fall asleep to no avail. One of the things I started thinking about when I was in that still quiet place (because really, right now I feel like I'm dying), was what I'd like all of my friends and family to do if I'm ever in a coma. The following list is a sure fire way to get me out of it. So, here goes.

Nicki: Rub the inside of my forearm with your fingernails lightly. Also, scratch the back of my neck with your fingernails. You may also hold my hand. You can also place Brielle on my chest. You may also lie to me and tell me you're pregnant.

My brother Steve: Be a dick to me, and start yelling at me for stuff that isn't my fault, and blame me for things I had no involvement in. You may also tell me about your high school glory days when you subbed at running back for Mike Ward.

My brother Danny: Call me Rick. And cry.

My sister Amy: Call me Rijub. Also, give me a 30 second massage on my back. You may also tell me which NFL player currently likes you.

My sister Cydney: Place a cell phone next to me and put it on speaker phone. Call me, have someone answer it, and then say "Doin Ricky?"

Kayla: Say "Daddy. I. Luf. You." Then put your little hand in mine. Doo doo. Doo doo. Doo doo.

Mom: Read me a story from the Bible and substitute my name for whoever the story is about. Unless you're telling me the story of Cain and Abel. I don't want to be either one of them.

Dad: Come to my bedside and say "Hey Rich-aaaard. Get up. You have to transfer the clothes from the washer to the dryer. I also bought you a new car. So get up son."

Mike: Say "A doo, whassupwitdisgayme??? Then tell me why my taste in music sucks. You may also tell me a cool inside story about what's currently happening at Lucasarts. And you can follow all of that up with a "Rick. Get up."

Dan: Do our super annoying laugh, and then smoothly transition that into a "So ummmm, second base?" You may also say "Rick. Get up."

Justin: Tell me why you'll only ever play XBOX 360, and try to convince me to play a stupid quest game with you.

Grandma and Grandpa V: Call me "Ricky Ricky." And then Grandma you slip a $20 into my hand and tell me to get something nice for Nicki.

Grandma Joy: Call me dear, then tell me a story about our family. Make sure you laugh.

Dana: Tell me what's going on with your family. Specifically Patty and Aunt Pearl. You may also place my phone beside me, put it on the non-silent mode, then text me. That sound should wake something up inside of me.

Matt and Stacey: Tease me about my wardrobe. Definitely throw in a "nice jacket".

Kelly: Sing the midol song. And you need to look at a photo of one of my old Christmas Block Arrangements and laugh in that laugh you do.

Pastor Paul: Come to my bedside and say "Heeeey Bro. Well, looks like you're in a little bit of a mess. But don't worry, we're all praying for you."

Grant: Come tell me I'm a loser, then follow that up with how sad it is that my salary is equivalent to what a person working at Hot Dog on a Stick makes.

Marshall: Do your Borat impersonation and tell me I'm a jew, then change your mind and call me a gypsy.

Ok, now here are some things that anyone can do:
Play either "Smack My Bitch Up" or "Firestarter" from Prodigy. Loud.

Play any Star Wars movie. Make sure you start it from the beginning so I can hear the opening fanfare.

Turn on a 49er game or an A's game, depending on what season it is.

Someone can bring in a Whopper and a Chicken Sandwich from Burger King and place it under my nose.

Someone can put an XBOX 360 Controller into my hands. Or a PS3 controller. Or a Wii controller.

Someone can put an MP3 player into my ears and play the newest "A State of Trance" from Armin Van Buuren. Amy should be able to find it.

And finally, someone can cook something in my hospital room, ensuring that I smell like that food. Since I HATE smelling like food, I'm sure I'll get out of the coma by sheer annoyance.


posted by Ricky @
1:45 PM