I've been meaning to post this for a long time...



A few months back, this particular revelation hit me. And that is, if you're married and want to stay married, DO NOT get a reality show on MTV or VH1 that revolves around your marriage. Unless your name is Ozzy Osbourne. If you're name

isn't

Ozzy Osbourne, then DON'T DO IT. Let's take a look at the couples, shall we?



Jessica Simpson and Nick Lachey.




Show: Newlyweds




Network: MTV




Ran for 2 seasons before they divorced.



From Wikipedia: However, the couple experienced disadvantages as a result of their participation on the show. Because cameramen were constantly following the couple, there were several incidents during the production of the show that caused tension between the couple.According to interviews with Nick and Jessica, the largest of these was the inability to be intimate with each other at certain times, or to have private conversations when they wanted to. It is also said that the reality show was partly responsible for the later divorce of the couple.



Hulk and Linda Hogan




Show: Hogan Knows Best




Network: VH1




Ran for 3 seasons before they divorced. Had been married for 25 years before the show aired.



From Wikipedia: On November 24

,

2007, it was announced that Linda filed for divorce from Hulk Hogan after 24 years of marriage. Hogan was uninformed of this until a reporter showed him the paperwork submitted by his wife. Linda had been away from him for three weeks in California when she submitted the paperwork. In court papers, Linda states the marriage is "irretrievably broken." In the court papers, she also addresses custody of their son, Nick (who is still a minor), asking for primary physical custody of him, while Hulk would receive "liberal visitation and access to the child." Linda is reportedly seeking half of the couple's $9.5m in assets, including a stake in their Bellaire mansion in Florida. In addition, Linda also asks for alimony, child support, and Hulk to pay for Nick's health insurance and take out a life insurance policy to cover child support for Nick if necessary. It is unknown how all these circumstances will affect the lighthearted reality show if it's even to return, which is also unknown. Hulk Hogan appeared on the Jimmy Kimmel Show on January 30

,

2008 and said that Hogan Knows Best will continue, though the focus will shift to Brooke.



Travis Barker (Drummer for Blink 182) and Shanna Moakler




Show: Meet the Barkers




Network: MTV




Show aired 2 seasons before divorce.



From Wikipedia: Barker's marriage to former Miss USA, Shanna Moakler, was featured in MTV's Meet the Barkers (2005

-

2006). After filing for divorce in 2006, his marriage trouble and personal life have been scrutinized in the media following a public MySpace battle with his wife and a brief relationship with Hilton Hotel heiress, Paris Hilton.



Carmen Electra and Dave Navarro




Show: Til Death Do Us Part




Network: MTV




Show aired less than one season before they divorced.



From Wikipedia: The show first aired on MTV in January 21

,

2004 and ran for 7 episodes. The final episode aired on March 3, 2004. Electra and Navarro were married on November 22

,

2003. The couple separated on July 18, 2006, and Electra filed for divorce on August 10, 2006. On February 20

,

2007 their divorce was finalized. The show tried to capture the reality of Electra and Navarro's relationship, but according to Navarro, reality TV is an impossibility "because you're not gonna be real with an eight-man crew in your house." He describes the show's product as "the most realistic portrayal of life with eight guys with cameras around."

Whitney Houston and Bobby Brown:
Show: Being Bobby Brown
Network: Bravo

Show aired for less than one season. They had been married 13 years befor

e the show aired.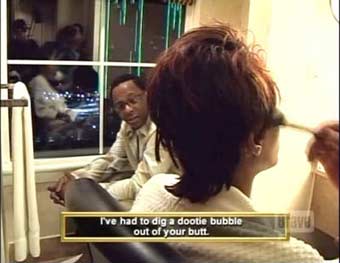 This one is a little different. Bobby and Whitney were certifiably nuts. I mean, one of the episodes was centered around Whitney being constipated and how Bobby "helped" her. I don't know if I can blame the show for their divorce, in this case. But here's the rundown from Wikipedia nonetheless: Being Bobby Brown was a reality series that depicted the life of former singer Bobby Brown and his mega-star ex wife Whitney Houston, and their family. The series debuted on the Bravo channel on

June 30

,

2005, and became very highly rated, and restored a degree of celebrity to Bobby Brown. The network initially refused to air the program with Brown as the sole star and only greenlighted it when Houston agreed to be included in the regular cast. Houston herself was visibly displeased when she left the premiere of Being Bobby Brown, possibly due to the editing she received coupled with the amount of air time dedicated to her over her husband.

I think that about covers it. If you can think of another one, leave a comment with the show title and I'll add it to this post. By the way, Nicki and I are slated to have filming begin on our reality show next week. It will air on MTV and be called "Ricky and Nicki: 7 Years of Having Names That Rhyme. All The Time."