RickyRadio
Click a Fett For
a Special Message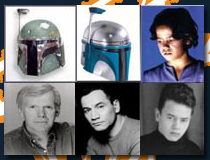 Links
Best Of My Website
Friday, May 16, 2008
100 degrees and holding. This is going to be a random update post. I need to let my readers know what's going on. So here goes.

1. Kayla is turning two this weekend. We're having a Sesame Street party and buying her a "big girl bed". Not that she's a big girl (2 years old and STILL 21 pounds), but we need to put Brielle into the crib now, so that mean Kayla is Movin on up! To the East Side! To a dee-lux apartment in the sky! Also, we only invited parents and grandparents, so if you're a friend of mine reading this right now, please know that you should not be hurt about not getting an invite. Kayla's first birthday party was so huge, that we decided to make this one much much smaller.

2. My good friend and

almost

first kiss in 8th grade if I would have turned my head slightly to the left at the bus stop, instead of going straight in, resulting in the bumping of our noses, Natali Del Conte called me this morning. It was totally random, and very inspiring and sweet. She works for CBS in New York, and has her own show called Loaded. But she called me to tell me how talented I am, and to give me a few pointers to help get my little entertainment career going. Like I said, the call was very unexpected and very sweet of her. I'm going to take her advice and get a few things going next week. Also, in 8th grade Natali's dad and my dad were the "parent" chaperone's on the 8th grade ski trip. They both went out the Friday night we got there, got drunk, and came back to the cabin and made us all shut up because they were hammered.

3. The potential big news I had reported on this website a week ago is not going to happen. That's why I said potential, people. Because it wasn't concrete.

4. I really love Lincoln, CA. We've met some grrrrrrrrrreat people here already, and not only that, I just like the town.

5. My grandmothers 70th birthday is Sunday. It's a surprise party. It will be the first time in about 15 years that every single one of her children and grandchildren and great grandchildren will be in the same building. She literally might die of a heart attack the second we all walk into church to surprise her on Sunday, so I'm bringing an EMT with me.

6. I had quite a few people email and text me saying "how come I wasn't mentioned on your coma wake up post"? And to that I say, I'm sorry. I WAS SICK WHEN I WROTE IT. But seriously, don't be offended. I'll fix it someday.

7. All dogs go to Heaven.



posted by Ricky @
3:51 PM