RickyRadio
Click a Fett For
a Special Message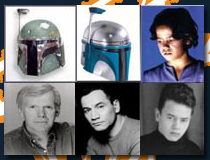 Links
Best Of My Website
Tuesday, June 03, 2008
That's what I get.

Lately I've been getting closer to God than ever before. I've been praying that He helps me yearn to know him better, and for me to take my relationship with him to the next level. So I'd say in the past 2 months or so, that I've been closer to God than ever before. I've been reading my Bible more, and the daily online Bible devotions I've been doing have strangely (or not strangely) been tying in to very specific situations going on in my life at the moment. It's been quite eye-opening. I feel more mature right now than at any other time in my life, spiritually and mentally. All and all, I'd say that despite our financial problems, this has probably been one of the best times of my life. And anyone who's been within earshot of me, has heard me say that.

Early last week or so, something happened in me. Something clicked. I finally completely surrendered EVERYTHING in my life to God. For the longest time I'd been holding on to the hopes that I could get on TV again, or get a job as an actor/producer/writer or something close. I never gave up that portion of my life. But I finally prayed that God could use me for WHATEVER he wanted, and that I was totally available to do his works. That even if I lost EVERYTHING in my life, family, work, house, cars, everything, that as long as I had him in my life, I'd remain happy.

So guess what. I lost my job. Laid off. Well, my hours cut back to less than part time, and even that was only going to last a short while. So many emotions ran through my mind when my boss told me that yesterday. First for a few seconds I was furious at him for all the lies and promises he told me during my interview about how much money I'd be making, and what work I'd be doing here. None of which ever came true during my 6 months here. He hired me to run his rental department, while I'd also work as a video editor and producer/writer at times. Well, I never got to edit., and I only did ONE writing piece for a client. Not only that, but about two months ago, Bill hired an older more experienced guy to run the rentals, but assured me he was moving me into more of a creative roll. Right. So yeah, my first emotion was anger. But then I had this tremendous amount of tranquility and peace come over me and a voice saying "Don't worry." It was then that I realized that it was time for me to put my money (or lack thereof) where my mouth was. I needed to let my actions back up my words from only a week ago when I said I could lose everything and still be content because all I need is God.

The part I'm confused about is whether or not God is testing me. I've researched that very topic, and I'm still not sure if God tests us. Some say he doesn't because he already knows what and how we'll handle it, and some say he does, for us to grow and overcome it. I

DO

know that he never gives us more than we can handle, and that we should consider it pure joy, the trials we go through in life because it builds our faith. Those things I

am

sure of. But here I go again, with publicly declaring something relating to my walk as a Christian, and then something happening so that I will have to face that very thing and choose whether or not I meant what I said. I should have just kept my mouth shut!

But seriously, I know that God

does

have something better for me than sitting here behind a desk all day not doing anything that uses my skills or talents. I know he's got a better plan. I just have to now trust him and not worry. I go back and forth with that to be honest. Yesterday I was like "Well this is great. Now God is going to bless me with something better. I'm excited about the change". But today I'm more like "Holy crap how are we going to pay our rent and bills that are due in a couple weeks". All in all, I know God provides and that he's not going to let me down. So I need to suck it up.

Today is also my 7th wedding anniversary. Crazy. I was thinking about that last night that when I first met Nicki, my eyes saw things like her, our house, our 2 cars, our kittens, and Fremont. Now 7 years later when my eyes are open, I'm seeing my two daughters, their girly bedrooms, our two dogs, and Lincoln, CA. I've been with Nicki 9 years, and when we first started dating we took a train from Philadelphia to New Jersey to go to Atlantic City. Something happened, and Nicki got concerned about something. I don't remember exactly what it was, but I do remember exactly what I told her "Stick with me and good things will happen". 9 years later, that's

mostly

true. Although I'm sure when we met, she didn't foresee me having had umpteen jobs, and still not solidified with exactly what I want to do with my life in terms of a career.

Sometimes I wish I was in the same boat as most of the rest of the world, and solely focused on making heaps of money in a career that I care next to nothing about. Sometimes I wish I would have sucked it up and stuck with any number of my suck jobs, so that I could have climbed the ladder and been in a much different financial situation. But most of the time I'm glad I have no idea what exactly God wants me to do with my life in terms of a career, and that I have absolutely no desire to join the rat race.

Most

of the time.

posted by Ricky @
1:07 PM