RickyRadio
Click a Fett For
a Special Message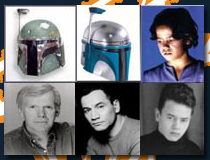 Links
Best Of My Website
Friday, June 20, 2008
This is my 666th post. Uh oh.



My girls are all in Fremont for a wedding that is taking place on Saturday. Which means I have from 3pm Thursday to around 1:30 pm on Saturday

ALL TO MYSELF.

I honestly cannot remember the last time I was home alone. Or alone at all for that matter. I miss my girls, but you know, it's nice. I walk around the house naked, kick the dogs, leave the toilet seat up, eat whatever I want, and other general man stuff. Here's a brief rundown of what transpired from 3pm until right now at 1:20 am.

3:00: Dropped the girls off with Nicki.

3:30: Arrived at Best Buy to get a new bluetooth headset for my cell phone. (It will also work with my PS3)

4:30: Arrived at Burger King. Ate 1 chicken sandwich, 1 whopper junior with cheese and a medium coke.

5:00 Went to the movie theater and saw The Incredible Hulk with my friend Justin. It was better than good. But not great. It was WAY better than the Ang Lee version from 2003, so don't get me wrong. But still, I think I don't like a CG Hulk. Yeah, that's it. I don't like The Hulk to be CG. Go hire a 7 foot muscle jock from the gym. Or not. Actually, I guess CG

is

the best way to go. But I still felt like I was let down for some reason.

5:15: Spent $1.99 to download "Ruff Ryders Anthem" by DMX as my new ringtone on my phone. In midi format. It's hella. I texted a few of my friends after that with "CALL ME RIGHT NOW!". Then when my phone rang I just put my head down and my right hand in the air and started to do the gangsta lean. The movie didn't start till 5:55. I had like 40 minutes to kill. What ELSE was I going to do?

8:00: Got home and did chores for about 3 hours straight. Cleaned downstairs, vacuumed, did laundry, dishes, etc etc.

11:00: Played Metal Gear Solid 4 for about an hour and a half. I love that game. It's indescribable. I literally could sit here and try and explain why it's awesome, but you just won't understand. So trust me ok? It might be the best game I've ever played when it's all said and done. We'll see. After 3 hours and the completion of the 1st of 5 acts, it's

already

better than 95% of games I've ever played.

12:30 Watched some Sportscenter and made a gigantic cookie. It must have been the size of the circumfrence of a baseball hat. It was delicious. And I probably drank half a gallon of milk while doing so.

Now it's 1:30, and I'm listening to the new Coldplay album. I've listened to it 10 times already, at least. It's only 43 minutes long, but it's 43 minutes of audible glory. You owe it to yourself AND your grandma to go get that album.

And this was the tree I drove past (passed?) every day on my to work when I lived in Fremont. It's off the Sunol exit from 680 if you don't believe me.


posted by Ricky @
1:18 AM