Not that you asked, but here's my Super Bowl prediction: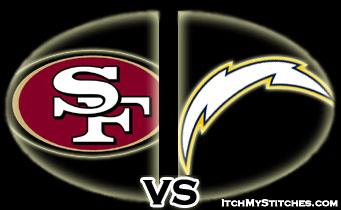 WHY NOT? Look, the Chargers are obviously going to be playing with a chip on their shoulder because of how they were bounced out of the playoffs by the Patriots last year. I would almost guarantee they are going to the Super Bowl.

The 49ers on the other hand, they're exactly who the Chargers were in 1994 when these two teams met for the first time in the Super Bowl. No one predicted the Chargers to make the Super Bowl. They were coming off of an okay season, and really had no reason to perform above the mediocrity that they were on paper. But they came out of nowhere to make the playoffs, then played with a passion and fire in them because everyone said they didn't belong.

That's how the 49ers feel. They're loaded with talent on both sides of the ball. They play in a weak division. The NFC is wide open as it is anyway, and no one is picking them to do anything. The 49ers won their first Super Bowl in 1981. Just a few short years removed from a 2-14 season. Well guess who had a 2-14 season just a few short years ago? That's right, YOUR San Francisco 49ers. I'm telling you, if you want to become a rich man come February, put $20 on the 49ers making the Super Bowl right now. At 15-1 odds, you'll make some decent cash.