RickyRadio
Click a Fett For
a Special Message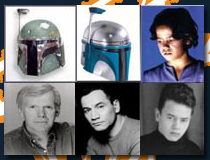 Links
Best Of My Website
Thursday, October 18, 2007
My head is pounding.


And I'm not sure if it's from lack of water, lack of sleep, Kayla and Brielle being on opposite schedules, or all 3. But it won't stop. I feel like I'm living in an altered state of consciousness. Everything is moving reaaaaaaaaaaaaally slow, it's taking me a few seconds to process thoughts before I say or do things, and there are moments during the day when I get so frustrated and tired that I have to stop dead in my tracks and compose myself. I normally would

already

hate going back to work on a Monday, but this Monday is going to be especially tough. I don't forsee myself getting much sleep before then, and if I feel any worse than I already do right now, they might just fire me.

I'd write more, but my head. I can't.

posted by Ricky @
8:43 PM