RickyRadio
Click a Fett For
a Special Message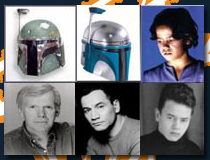 Links
Best Of My Website
Wednesday, October 24, 2007
Halo 3 is pretty incredible.

It's not that the game is revolutionary or anything, or even ground-breaking with it's graphics and gameplay. No, the thing that makes this game incredible, is what Bungie (the makers of the game) has done with multi-player statistics and scoring. With the advent of the current generation consoles, stats and achievements have become a staple in online and offline gaming. On the XBOX 360, you have what is called as a "gamer score". What that consists of is all of the "achievements" you earn while playing games. So instead of just going through a game and scoring points, you actually earn awards for things like "Completing Level 1", "Defeating the boss without dying", and so on. The gamer score in and of itself is really cool, but Halo 3 takes it to stratospheric type levels. Not only can you earn the standard game achievements like "Headshot Honcho" and "Killing Spree", but online at bungie.net is an

extremely

comprehensive stat sheet.

Here is the first screenshot, telling me my basic stats, and what my character looks like.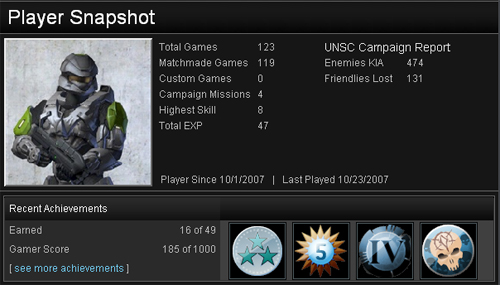 As you delve further into your stats, you can check every single multiplayer match you've been in, and how you fared. From the person you killed most, how long your average life was, weapon you used most, awards you earned, and things like that. It also has a map of where you made your kills, and where you were killed. Here's a screenshot of that nonsense. Notice all of the 1st place finishes, by the way.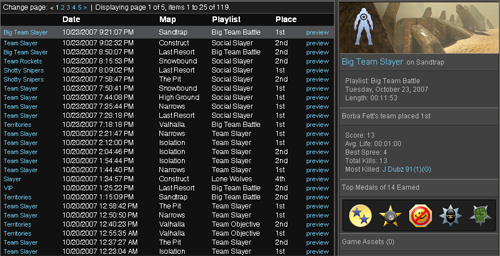 You can also go to another section and check your combat stats. Which weapon you've used most, and which awards you've received the most. I have walked up to people and beat them down with the butt of my gun more than any other method to kill. Machine gun is a distant second, but I'm proud that throwing a "sticky" grenade (which literally sticks to an opponent then explodes) is third. It's my favorite way to kill.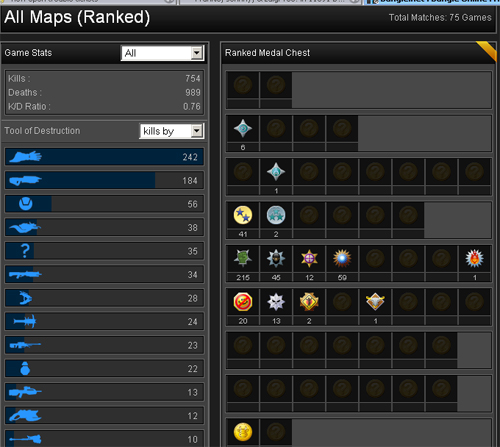 Anyway, my point here people is this: Halo 3 is pretty incredible. It's extremely addicting just because it's a fun game to begin with. But with the ability to see all of your detailed stats on bungie.net (and there are a ton more stats that I didn't even talk about here) it takes the word "addicting" to another level. Thank God I love peanut butter and jelly sandwiches so much, because they're quick and easy to make, allowing me to spend more time with my new baby, Halo 3.

Oh, and Brielle is pretty neat too. But Halo 3 doesn't poop every 30 minutes and cry when I don't pay attention to it, or wake me up 6 to 10 times a night.


posted by Ricky @
10:55 AM