RickyRadio
Click a Fett For
a Special Message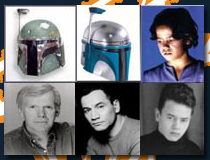 Links
Best Of My Website
Saturday, January 12, 2008
Whew! What a week and a half.

I don't even know where to begin. But I'll start with the move last Saturday. By the time Saturday morning rolled around last week, I was already pretty sick. I had that bad cold that's been going around. But nevertheless, my family showed up at 8:30 in the morning to help load the huge 24-foot moving truck I rented. By 11:30 it became apparent, and embarrassingly so, that we needed ANOTHER moving truck because of all the junk we had. So, my two brothers rented

another

truck, and loaded it up while myself and my step dad drove the first truck to our new house in Lincoln.

We go here around 2pm, and finished unloading around 4. My brothers showed up around 5 or so, and we unloaded that truck shortly after eating. We were all done with unloading around 8 and my plan was to drive to Hayward to drop the trucks off, pick up my car and then drive back to Lincoln. Nicki vetoed that idea because I was sick and it was late, and doing that would have been another 5 and a half hours of driving. So I waited till Sunday morning to do it.

What a nightmare that became. I hit the road around 1pm Sunday, with my step dad following me in the other truck, to Hayward. We were going to pick up my car and then drive back after we dropped the truck off. Well, like I said, I was sick and tired. So as soon as I stepped out of the truck in Fremont, I realized I forgot the keys to my car in Lincoln. Yeah. Seriously. So. I called my pastor, and he let me borrow his car to drive back to Lincoln. I drove back to Lincoln, and got home around 7:30. Ate a VERY quick dinner, then drove

back to Fremont.

I dropped my pastors car off at his house, got a ride to Hayward to get my car, then drove to the house in Fremont to finish getting the remaining stuff from that house. Then I hit the road to come BACK to Lincoln. But Kayla was out of diapers. So at 2am, midway through my journey back, I stopped at a Wal-Mart off of I-80 somewhere, and did a little grocery shopping. I FINALLY got home around 3am, and after unloading the car , wound up in bed around 3:45. Needless to say, I was absolutely exhausted.

Luckily I didn't start my new job until Wednesday, so I had a couple days to recuperate. We're now about 60% unpacked, and living comfortably in Lincoln. I love this place. And this house. My new job? Not so much. But that's a story for a new time, and the jury is still out because the job has a lot of potential. It's just not what it was touted as, at this point in time.

Anyway, I'm watching football on the couch now. I didn't get to watch a single snap of any game last weekend because we were so busy moving. So this is REALLLLLL nice Clark.
posted by Ricky @
2:21 PM