RickyRadio
Click a Fett For
a Special Message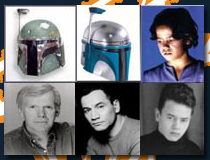 Links
Best Of My Website
Wednesday, March 05, 2008
The wife and I went and saw Dana Carvey last night...

Since the end of January, I'd had last night planned. Part of my actual day job is looking for events in the Sacramento area, and low and behold at the end of January, I saw that Dana Carvey was going to be at the Punchline in Sacramento on March 3rd and 4th. So I called my mom way back in January and asked if she could take the girls to her house for a few days in the beginning of March. Fast forward to Sunday night, my mom and I met halfway in Elk Grove and did the kid swap.

I'd kept last night (well, that we were going to a comedy club to see Dana Carvey) a secret from Nicki the whole time. All she knew was that I was taking her on a date. Trouble was, I didn't have the Robert DeNiro, Johnny Cash or Eddie Money to buy the tickets when I first saw them listed, and by the time I got paid and was able to buy the tickets, Dana had been sold out. I called the punchline a few times and asked them what I could do, and they said that they usually have about 10 extra tickets from people canceling or not showing up, and that I would have to wait in the "stand by" line the night of the event. The show started at 8pm, and just to be sure I was first in the stand by line, I arrived at 5:15. It was agonizing seeing the official line get deeper and deeper, and by the time they opened the doors at 7pm, I swore that the entire population of Sacramento had gone through the doors.

I was getting pretty discouraged, then around 7:15 the "I guess I'll be a bouncer because I'm a huge out of shape" guy let Nicki and I in to buy our ticket. The house was packed. I wasn't amused, especially since I'd been there well before any of those people arrived. But I was prepared to sit in the back, and just be happy we got in. Sure enough, the host took us to the far back corner. But right before we sat down, the club owner said "No no no Ryan, fill em in." So Ryan turned around and took Nicki and I to the 2nd row, dead center. Unbelievable. I was going to be sitting less than 10 feet away from Garth.

The first comic came up for about 20 minutes. He was funny, but I'm glad his set was only 20 minutes. I felt like he was the guy that the club calls at the last minute if the real opening act gets a case of the "fuck-it's". (Dana Carvey spent about 10 minutes talking about the "fuck-it's. Hilarious.) And as it turned out, I was right. The actual opening act

did

flake. Anyway, back to the opening act, when he came on he said "I'm sorry you have to endure me for 20 minutes before Dana Carvey gets on". Nicki's face lit up. She got really giddy because Dana Carvey is one of her favorite SNL cast-members. I earned like 30,000 points at that moment.

Dana came on, and for more than an hour, made us laugh so hard that our faces are sore this morning. He spent the first 20 minutes talking about politics, doing his impressions of Barack, Hillary, and John McCain. And although I don't follow politics, it didn't matter. It was hilarious. And surreal. Sitting 10 feet away from someone you watched on SNL and in movies your whole life, was really cool. He did Garth, Hans, Arnold Schwarzenegger, grumpy old man, various political people, and The Church Lady. (There was a drunk woman who would NOT shut up at one point, so Dana slipped into the church lady and called her a "Tuesday Night Whore".) At the end of his set, he took a few questions from the audience. He picked me, and I asked him how grueling the schedule for Saturday Night Live was during the week when they had to write sketches and stuff. He said it was madness, and then did a really funny impression of Lorne Michaels. I think Dana and I are best friends now. He really seemed to appreciate my question.

So now we're going back to the Punchline tonight to see Dat Phan. If you don't know who that is, shame on you.

Party on!

posted by Ricky @
8:38 AM