RickyRadio
Click a Fett For
a Special Message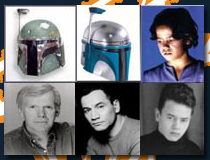 Links
Best Of My Website
Thursday, March 06, 2008
I met Dat Phan last night...

Nicki and I had our second date in as many nights last night. We went back to the same comedy club we were at the night before, but last night we saw Dat Phan. For those of you who don't know who Dat Phan is, shame on. Check out his website here. He won the first season of Last Comic Standing, and since then has been in a few films and stuffed in my closet with a red ball in his mouth. Nicki and I pull him out on "special nights".

Dat was really funny. Unfortunately, the crowd wasn't really that lively last night. The club was half full, it was a Wednesday night, and there was a lady that kept talking really loud when she was ordering her drinks and when she wasn't ordering her drinks. Dat rolled with it, and in his Vietnamese accent said "Dis is not TV, I can hear you"! As if being at a small club in Sacramento on a Wednesday night wasn't bad enough, the fact that you have drunk gal interrupting your set every 10 minutes probably made Dat want to chuck the mic at her forhead.

After the set, Dat was outside the club shaking hands and selling various items. He was in Cellular, so he was selling the DVD of that. He was selling his comedy CD, which we bought and had autographed, and since he is Vietnamese, he was also selling clothes, furniture and toys with too much lead in them. Now he's my mypsace buddy, and we've emailed a few times back and forth. We're basically like family now. More than family. Best friends. Forever.

posted by Ricky @
10:38 AM