RickyRadio
Click a Fett For
a Special Message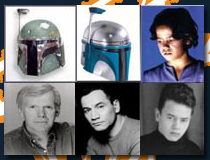 Links
Best Of My Website
Sunday, March 09, 2008
I just got back from the annual 2K Sports Home Run Derby in Arizona... (Video Tomorrow)

(You can read last years' story about this same event here)



Hi. I'm Ricky Borba. I'll be your storyteller for the next few minutes. So sit back, relax, grab yourself a nice warm glass of milk, snuggle up tight with the kiddies. I left Lincoln on Friday morning to fly out of Oakland. Yeah. Not exactly fun times. What WAS fun, was the crazy woman on BART that I met IMMEDIATELY upon my entrance to the train. I was in the Pleasanton station, and as soon as I walked on BART, this woman in her 50's, wearing a pink jumpsuit looked up at me before my first step on the train even completed, and said "Is this train going to the airport?" I said "Yes." She said "Does it go to San Francisco airport?" Again, I said "Yes." Then she said "Does it go to Oakland airport?" I said "Yeah, it goes to both." She then said "I'm flying out of San Francisco. Which airport are you flying out of?" I replied, "Oh, I'm flying out of Oakland." (Crisis averted, right? WRONG.) She says "

Oh, I think I'll go to Oakland airport and fly out with you then.

" Long story short, she ends up telling me "The feds dropped me off in Pleasanton, and I'm flying to LAX. I just got out. It's been a long time." I was like "........" And in conclusion, she DID get off BART in Oakland. And went to the airport with me. I don't know if her flight was from Oakland or SFO, but she definitely had a boarding pass for somewhere.

I arrived in Phoenix, and Steve Masters (of Gottgame.com) and I drove to Scottsdale. Steve emceed the Home Run derby, which had about 50 players from every team that has spring training in Arizona. I interviewed all the players, and filmed the event. And now I have for you the most awkward conversation I had all evening. It was with National League Champion, and Colorado Rockie, Todd Helton, who as you can see below, looks exactly like Josh Brolin of "No Country For Old Men".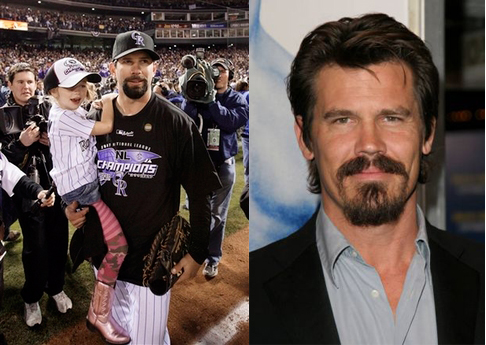 Me

: Hey Todd. Nice to meet you. Since "No Country For Old Men" came out and won the Oscar last week for best picture,

EVERYONE

has got to be telling you that you look just like the lead actor, Josh Brolin.



Todd Helton

: Who?



Me:

Uhhh, you know, the main character in "No Country For Old Men". It just won Best Picture, Tommy Lee Jones???



Todd Helton:

No Corn Trees for Oldman? (I swear on my mothers grave he said that)



Me:

He's just this actor that looks a lot like you. Especially in that movie. Try and remember this conversation when you finally see "No Country For Old Men".

Todd was a good sport about it, and eventually did a really funny interview with me that you'll all see tomorrow. Some other highlights of the MLB 2K8 Home Run Derby were:

1. Getting to sit at the same table as Bobby Crosby, Jason Kendall, Huston Street, Jack Cust, and Chad Gaudin during the dinner and auction that followed the Home Run Derby.

2. Getting to witness first hand some rookie hazing by some members of Kansas City Royals.

3. Having the room cleaning guy open my door halfway while I was lying naked in bed with my ass sticking halfway out, talking to Nicki. I SWEAR these people are trained to ONLY look for the "Do Not Disturb" sign. Nevermind that I shouted 3 times at the top of my lungs "I DON'T NEED MY ROOM CLEANED RIGHT NOW THANK YOU."

4. Having my first steak from Ruth's Chris Steakhouse. A butterflied cut Filet Mignon. It was the best steak I've ever had. And I didn't even have to pay for it.

5. Coming home to my girls. God I missed them.




posted by Ricky @
6:55 PM