RickyRadio
Click a Fett For
a Special Message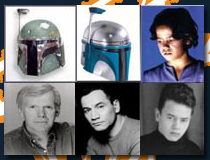 Links
Best Of My Website
Thursday, March 13, 2008
Look to the left!

You'll notice that in the little white and blue "radio blog" box on the left has quite a few new songs. Some old, some new. But as of right now, the songs in there are what you could call the soundtrack to my life in various stages. When I was younger, I listened to a lot of hardcore rap. When I got older, it was more dance and trance, and now that I'm older than your grandma, I'm listening to more alternative rock and experimental. Anyway, all you have to do is click on one of the songs, and it will start playing. Go ahead and give it a try. You'll be glad you did.

And here's a short list of current things that are getting on my nerves:

1. People who drive with their tops down at 8 in the morning. I know it's Sacramento and I know it's hot here, but not in March and not at 8 in the morning. LOCK IT UP.

2. Lists.

The end.

By the way, my grandfather turns 80 today. Which, if I did my math right, means he was 50 when I was born. Which again, if I did my math right, that means that Kayla or Brielle will be making me a proud grandfather in exactly 20 years. Ya. Right. About the only thing I want Kayla and Brielle making me in 20 years is a lot of money. Because at the rate my job is going, I'm going to need to start pimping them out. Yeah, I just said I'm going to start pimping my 22 month-old and 5 month-old out. Maybe they could find a mayor of a major US city and get paid $4000 for "deep and thoughtful conversation".

I'm hungry. Can you come over and cook me dinner?

posted by Ricky @
7:10 PM