RickyRadio
Click a Fett For
a Special Message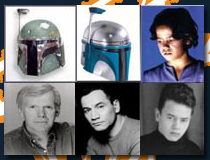 Links
Best Of My Website
Thursday, August 05, 2010
Welcome Home Grandma



The past few days have been extremely emotional. Maybe the most of my life, but I can't be sure. It's 11:48pm on Wednesday, August 4th, 2010. When I began writing this at 11:44, my grandmother was still alive. As of 11:47, she was not. Obviously I could not have known she was going to meet the Lord during the middle of writing this, but I feel like it is serendipitous. How can it be serendipitous? Because my grandmother is no longer in any pain, nor is she in the run-down, worn-out body that had been keeping her soul prisoner for the last year. She is now home with Jesus Christ, and is able to see her daughter Sharon, along with many other family and friends. I even changed the title of this note to reflect the fact that she is now gone, instead of the original title it had.

When I started to write this, with the underlying thought being that she was still here, in that hospital bed, I wanted to explain how interesting/difficult it's been for me to have seen her in that hospital bed, in that 80 year-old body and then coming home to see my two daughters, just beginning their lives. It was hard for me to imagine that my grandmother was just as bright eyed and full of the wonder that a toddler is, seeing her in the state she was in. It's really been the foremost thought on my mind, the dichotomy between her life and the life of my daughters.

On the 4th of July I spent a couple hours at her house. She was brittle and ravaged with cancer, but she was still able to hold a conversation with me and give me some sound advice. When I found out Monday that she had a debilitating stroke and was now in a coma in the hospital, I struggled mightily with the thought of going to see her like that or not. For 8 hours, I was set against it. I didn't want my 4th of July memory to be tainted by seeing her in such bad shape. But around midnight, I had the tiniest of inklings to see her, so I hopped in the car and drove to Fremont. I arrived around 2am, and spent the next two hours holding her hand. When I left, I thanked her for the woman she was, how she enriched my life, how I hoped that my two daughters would grow up some day to be like her, and then I told her to "go home".

I am glad I went. Despite how difficult it was seeing her like that, and knowing that those images will never leave me, I honestly believe she knew that I was there, and that we made a connection, if ever so brief.

I don't feel pain or sorrow for the fact that she is gone, despite the fact that I will miss her, and always remember the way she said "yes", and her laugh. I know without a shadow of a doubt that she is with God and no longer in pain. I know the minute she took her last breath on Earth, she opened her eyes for the first time in heaven. In some ways, I'm kind of jealous of that. But I will happily wait my turn.

Joy Borba was a giving, loving and wonderful woman of God. Her life was marked by serving Him, and she tried her best every day to emulate Him. There aren't a lot of people in this world who can give such sound advice, despite it being the kind of advice you might not want to hear, but do it in such a manner that you know it's coming from the most true parts of her heart, and therefore ultimately sound advice, because in the truest parts of her heart, she was like Christ.

I consider myself fortunate for having had her as my Grandmother for 32 years. She was always available when I needed her, and she was, true to her name, full of Joy.

I am so grateful for the memories I have of her. None more wonderful than her holding my two daughters in her arms when they were born. My prayer now is that grow up to be like her.

I love you Grandma.
posted by Ricky @
12:15 AM