RickyRadio
Click a Fett For
a Special Message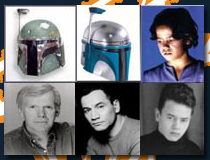 Links
Best Of My Website
Wednesday, January 30, 2008
Welcome Back.

For about the last 8 months or so, I'd noticed that my monthly hits on this website had drastically decreased. I began to contemplate my life, and wonder what I had done in order to rub so many people the wrong way. I began feeling sorry for myself. I began to question why I was even born. Was it because I had become so good looking that other people felt intimidated? Was it because I can basically just look at Nicki and get her pregnant? Was it because I started complaining about my job? Was it because Matt Smith came out of the closet? I had no clue. I mean how did I go from over 3000 unique hits a month, to just under 1000 in the blink of an eye?

I had always wondered why at Pump It Up (my old job), if someone used Internet Explorer to try and see my website, it got a page cannot be displayed message. I just assumed that it was a setting that the other guy in IT had on our server, that didn't allow some websites to get through. But then a few of my friends (some being in other parts of the country) started emailing me saying they couldn't get to my website either. So I did some research and realized that about 8 months ago I changed some code on my website, and when I did that, it must have caused some errors in Internet Explorer. So now I've changed the code back, and I think it's working just fine.

If you're on my website for the first time in months because it wasn't working for you before, please let me know in the comments section of this post. Thanks!

posted by Ricky @
8:57 AM
Monday, January 28, 2008
Hi. Larry. Us.
posted by Ricky @
7:58 AM
Friday, January 25, 2008
I met the Governator.



Wednesday night my new company, ATV, provided the audio and video equipment for the California Health Initiative dinner. Slated to appear as the head speaker was none other than the T-100 himself, our governor, Arnold Schwarzenegger. I wasn't supposed to meet him. I was supposed to be upstairs running the board and making sure the dinner hall was setup correctly for sound and video. But the guy I was working with that night needed me to go downstairs to grab a piece of equipment. So at the exact moment I walked down to the lobby where Arnold spoke, he was walking right toward me.

Now to me, he's Arnold Schwarzenegger, movie star, action hero and impersonation fodder. He's not the governor to me. Well he is, but you know what I'm saying. Anyway, there were a number of things that ran through my mind the moment I met him, that I wanted to say. Here they are in no particular order. And be sure to click the one that is light blue:

Aggghgghhhhoooooarrrgghhhhahh!



Get to the choppa!





These people need air!





You are one ugly MF.



Well I hope you leave enough room for my fist, because I'm going to ram it into your stomach!



What do you think of the new Terminator TV show?



Hey wait right here while I go get a pen for you to sign this,

I'll be back.





Junior is my favorite movie.





Do you watch PBS? I DO.



But, I didn't say any of those things. I just shook his hand, made some small talk, and went on my way. His IMDB bio says he's 6'2", but that dude was 5'10". I'm 5'10", so I should know. And it was confirmed later by his aide, that he wears 3 inch "lifters" in his shoes to make him taller. Whatever those are.

posted by Ricky @
3:08 PM
Monday, January 21, 2008
I am now the proud owner of a 61-inch Samsung DLP TV.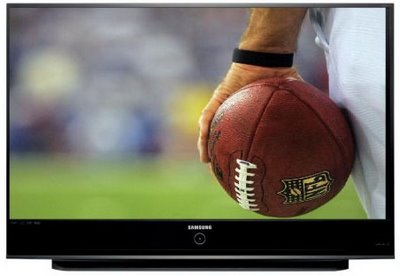 Here's the deal. I had gotten approved for a Best Buy credit card some time back, but never used it. Until this weekend. I had heard of Circuit City doing 36 months of no interest, with a minimum payment of 1%. So I figured I'd mosey on over to the Best Buy website, and see if they had something similar. Sure enough, they did!

As soon as I found out, I ran downstairs and told Nicki, who was breast feeding Brielle. I took Brielle off the boob, and put her in the cabinet. I talked with Nicki about the TV and gave her the ol' "You know how long I've wanted this and how hard I've worked" speech. To my amazement, it

ACTUALLY WORKED

this time! I told her that the minimum payment is 1% for 36 months (Obviously we're not going to only pay 1% every month, because that would take 100 months to pay off) and that there are no other catches.

I had gotten quite a few Best Buy gift cards from my friends and family for my birthday and Christmas, so I used them to help buy the TV. But the

REAL

deal was that I went online and typed in "Best Buy Prtinable Coupons" into google, and found a 12% off Coupon towards any TV or Home Theater. I

ALSO

price matched the TV with Circuit City, who was selling it for $1799, instead of the $1999 that Best Buy was selling it for. You do the math. I got a

FANTASTIC

deal on a TV that is bigger than my Ford Taurus.

Last night we watched Ratatouile on Blu Ray, via my Playstation 3, and the colors and picture were so beautiful and flawless, that I started crying. And the weird part is that my 6-year old surround sound system sounds better in our new house for some reason. After we watched about an hour of Ratatouile, I threw in Star Wars Episode I, and watched about an hour of it with Kayla. She says "OH COOL!" now, so she basically said that phrase about 30 times. It was really neat watching Star Wars with my daughter, seeing her face light up like I'm sure mine did the first time I watched it when I was her age. Thank you Samsung, may God bless you and your family.

So as you can imagine, I will be watching the Stupor Bowl (Stupor because the Giants and Patriots not only played each other 4 short weeks ago, but I HATE both of those teams) in HD on February 2nd. I've also decided that there are no reasons I'll ever need to leave my couch other than for work. My nights and weekends will now be solely consumed by watching massive amounts of HD TV, Blu Ray movies, and playing video games in HD. I've called a plumber and a carpenter, as I'm going to meet with them to see about turning my couch into a toilet on one end and a bathtub on the other. I'll let you all know how that works out.



I've been reminded about 35 times that the Stupor Bowl is on February 3rd. Not the 2nd. Well, that just goes to show how much I care about it.



posted by Ricky @
9:54 AM
Thursday, January 17, 2008
It's like I never left...



I'll be in the bay area tomorrow. Specifically San Francisco. Even more specifically, Angel Island. The new company I work for has an opportunity to produce an audio walkthrough for Angel Island. It's for when someone who is visiting the island can purchase and put on some headphones to hear me guide them on a walkthrough of the island. Think of it, Ricky Borba, the voice of Angel Island. Alcatraz does the same thing. Minus the fact that you don't get beat in the shower and forced to make love to other men unwillingly. (And I don't do the voice) But I'm not a huge fan of traveling, even if it's only 2 hours away. I just like being and staying local. Don't hassle me.

Right now I'm listening to some pretty cool music on dirtyradio. I love the band Underworld, and they created this station. I wouldn't really even know how to describe it. All the music is stuff I've never heard before, but I am constantly writing down names of artists and song names. You should give it a listen here. Just click the "listen in" link at the top, and it should open whatever program you have on your system that plays that type of music stream. Usually Windows Media Player or Winamp.

In other news, they're opening a gym right across the street from our office here in Lincoln. (Rocklin, really) And since we installed all of their AV stuff, I'm almost positive we get free memberships. That's going to be awesome. There's never been a better scenario for me to workout and get in shape, then having a gym right across the street from my office. Too bad they don't have a pool, or else I'd live there. Instead of in your dreams ladies.

I think that's it for now.
posted by Ricky @
4:12 PM
Tuesday, January 15, 2008
I have two videos to share with you. The first one is really funny. And I'm not the only one who thinks so. Sure, Hitler was a horrible person, and he is an extremely offensive topic to this day, but this video is hilarious. It's Hitler (an actor playing Hitler, actually) getting upset over the HD-DVD vs. Blu Ray format wars.



The second video is of Tom Cruise. Explaining why he's so into Scientology. Normally I don't make light of other people's religion, but come on. This is some ridiculous stuff. At one point he says something like "If we as Scientologists drive past an accident, it's not like anyone else. We HAVE to pull over because we KNOW WE are the ONLY ones that can help". Uhhhhh? I think Tom is a great actor, and I love all of his movies, but someone slipped a few crazy pills into his Starbucks apparently. This is the 3rd time I've had to find another source for the video. The Church of Scientology does NOT want you to see it.


posted by Ricky @
11:01 PM
Saturday, January 12, 2008
Whew! What a week and a half.

I don't even know where to begin. But I'll start with the move last Saturday. By the time Saturday morning rolled around last week, I was already pretty sick. I had that bad cold that's been going around. But nevertheless, my family showed up at 8:30 in the morning to help load the huge 24-foot moving truck I rented. By 11:30 it became apparent, and embarrassingly so, that we needed ANOTHER moving truck because of all the junk we had. So, my two brothers rented

another

truck, and loaded it up while myself and my step dad drove the first truck to our new house in Lincoln.

We go here around 2pm, and finished unloading around 4. My brothers showed up around 5 or so, and we unloaded that truck shortly after eating. We were all done with unloading around 8 and my plan was to drive to Hayward to drop the trucks off, pick up my car and then drive back to Lincoln. Nicki vetoed that idea because I was sick and it was late, and doing that would have been another 5 and a half hours of driving. So I waited till Sunday morning to do it.

What a nightmare that became. I hit the road around 1pm Sunday, with my step dad following me in the other truck, to Hayward. We were going to pick up my car and then drive back after we dropped the truck off. Well, like I said, I was sick and tired. So as soon as I stepped out of the truck in Fremont, I realized I forgot the keys to my car in Lincoln. Yeah. Seriously. So. I called my pastor, and he let me borrow his car to drive back to Lincoln. I drove back to Lincoln, and got home around 7:30. Ate a VERY quick dinner, then drove

back to Fremont.

I dropped my pastors car off at his house, got a ride to Hayward to get my car, then drove to the house in Fremont to finish getting the remaining stuff from that house. Then I hit the road to come BACK to Lincoln. But Kayla was out of diapers. So at 2am, midway through my journey back, I stopped at a Wal-Mart off of I-80 somewhere, and did a little grocery shopping. I FINALLY got home around 3am, and after unloading the car , wound up in bed around 3:45. Needless to say, I was absolutely exhausted.

Luckily I didn't start my new job until Wednesday, so I had a couple days to recuperate. We're now about 60% unpacked, and living comfortably in Lincoln. I love this place. And this house. My new job? Not so much. But that's a story for a new time, and the jury is still out because the job has a lot of potential. It's just not what it was touted as, at this point in time.

Anyway, I'm watching football on the couch now. I didn't get to watch a single snap of any game last weekend because we were so busy moving. So this is REALLLLLL nice Clark.
posted by Ricky @
2:21 PM
Wednesday, January 02, 2008
Today couldn't have gone any better. This is the BIG NEWS....

About two months ago when it became time to really start pursuing a job and home in Lincoln (The Sacramento area) I put an ad on Craigslist here. I got absolutely nothing. Not one email, phone call or anything. I ended up finding a job at a place called Goores, in Sacramento, doing IT stuff and a tiny bit of graphic design. But it was mostly an IT job, with a heavy emphasis on data entry and learning some weird program that creates pricing for everything they sell on their website. I was trying to make the best out of things, but I wasn't entirely thrilled about my new job. I was hoping that a few months down the road that they'd give me a different position or let me do more of the graphic design. I was going to do it happily though, and I was thankful that at least I had a job. It was a job that would allow us to move, and give Nicki a month or two to get her practice going.

Welp. Last Friday I checked my email, and I had an email. There was no subject, so I

almost

deleted it without reading it. But I now realize that nothing I did was in my control, concerning this other job. It was from a guy named Bill, who owns and operates a video production facility in Rocklin. They do video editing, video production, green screen stuff, voice-over stuff, audio and video equipment rental and services, and media transfer. (Like 16mm to DVD). Basically, they do everything that I love. The website is here, btw. So Bill and I traded emails back and forth a few times, then he told me to call him. We chatted for about 20 minutes, then he asked me to come in Wednesday the 2nd. That was today.

I got there are 12:32 because I'm always early or on time. Remember that people. Being late is a CHARACTER FLAW. Anyway, I met with Bill for about 45 minutes, then interviewed with 2 other people. Bill had told me that they were going to interview 3 more guys, and that he'd let me know about things tomorrow night. So I left feeling pretty good, but still a little nervous that there were 3 more guys interviewing for MY JOB. I went to a little Italian place (not little like the doors are small and they have kiddie tables) and ordered my Chicken Parm. I always pray before I eat, so I said "God, please let me get this job. It would be a dream come true." And as soon as I opened my eyes, I am not kidding you, my phone rang. It was Bill. He wanted to know if I was still in the area. I told him I was, and that I was eating then going to go to my new house to unload a few breakables. He said "Well good, why don't you come on in before you go home. We all thought you were awesome, and told the other 3 guys to not even come in. How would you like to work for ATV?" I was shocked. I was so happy that it took me a few seconds to respond to him. I of course said yes, then immediately called Nicki. I told her the great news, and it took all I had in me not to start crying from happiness inside of that restaurant. I just felt so overcome with joy, happiness and thankfulness that I got to the brink of tears.

I went back to ATV and sat with Bill one more time. We went over the job in more detail, and he told me he's just as excited to have me there as I am to be there. This is only the second time in my life that I landed a job that made me as happy and excited as I am now. I am

so

happy to be working in the field that I love, that I just know I'm going to do great things there. Incidentally, the last interview I had there today was with a girl named Anna, who as it turns out is a Christian, and told me that Nicki and I should try out Bayside Church in Granite Bay. Which is the same church the girl we're renting the house from, told us as well.

And last but not least, on my last day of work at Pump It Up on Monday, I found our cat dead in the middle of Mission Blvd, right by our house. (Sorry about all the commas in that last sentence, but YOU tell me how I should I have written it better) So after work on Monday he had been moved from the middle of Mission Blvd, to the gutter. So I went home, put a box together, and got some gloves and stuff. I went to the side of the road where he was, and put him in the box, then took him to the big dumpsters and said a few kind words about him and threw him in.

Or so I thought.

Tonight around 7:30, I thought I was going crazy because it sounded like Jettster was outside our door meowing.

He was.

So I either buried the wrong cat, that was his EXACT clone, or I buried him at Stephen King's Pet Semetary.

posted by Ricky @
8:32 PM