RickyRadio
Click a Fett For
a Special Message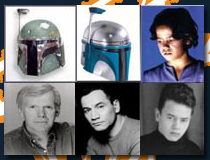 Links
Best Of My Website
Sunday, September 30, 2007
Family Photo Day
posted by Ricky @
6:10 PM
Thursday, September 27, 2007
We couldn't find a Karaoke machine last night. But thanks to my co-worker Andrew, we now have a slightly used $200 Karaoke machine!!!!!!!!!!!!! Heeeeeeeeeeeeeeeeeere's Kayla!!!


posted by Ricky @
6:21 PM
Wednesday, September 26, 2007
Last night Kayla became my daughter...




(I've already shared the night that I became Kayla's dad)

Last night was a going away party at On The Border in Pleasanton, for a couple of co-workers of mine. It was a buy-your-own dinner kinda deal, so family members were invited since we all paid our own way. I was well into my first of two Margaritas when Nicki and Kayla arrived. So we all sat and ate and drank and were merry. The end.

But as people started trickling out and as the "hardcore" bunch of us stayed and played more, I thought to myself that it was pretty strange how no one had grabbed the mic and entertained anyone. Considering we were all the way in the back of the restaurant in the banquet room, I did just that. But as soon as I turned the thing on, Kayla ran over to me and looked up at me with those gorgeous blue eyes of her and put her hand out like "gimme that". So I did. The rest of what happened will stay with me for the rest of my life.

She took the microphone, placed it in front of her mouth as if she knew what to do, and said one of her unintelligible words. As if that wasn't cute enough, as soon as she heard her precious little voice resonate throughout the banquet room, she laughed harder than I've ever seen her laugh in her entire 16-month life. It was the cutest thing I have

ever

seen. She continued to put the mic to her mouth and laugh uncontrollably for about 15 minutes straight. It was a perfect life moment. And I fell even more in love with her than I could have ever imagined. She is my daughter. My precious little angel.

So today on my lunch break (payday!) I went to the store and bought her a little Karaoke machine. I can't wait to get home and hopefully relive the magic from last night. When I say "She became my daughter" what I mean is that I've always loved to be the center of attention and entertain people. And last night was a

definite

sign that she has some of my personality traits in her. At 16 months no less. Isn't that incredible? God is crazy. He's the man.

posted by Ricky @
2:09 PM
Monday, September 24, 2007
I'm just sayin........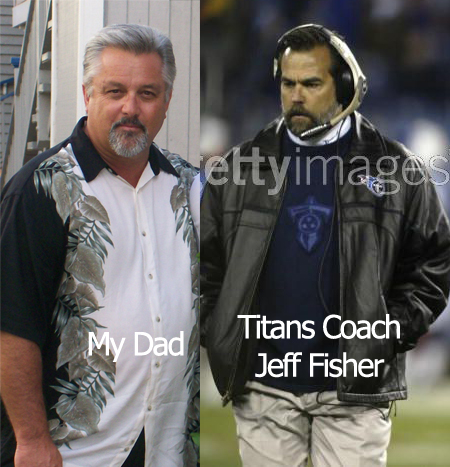 posted by Ricky @
8:34 PM
I'm playing a joke on a co-worker of mine...

He's on vacation in New York. So I did this on Craigslist...


40 copies of Halo 3 for $30 each - $30
---
Reply to: see below
Date: 2007-09-24, 3:47PM PDT
I work for a national distributor of video games. I'm able to get games at wholesale. I just received my shipment of Halo 3 and now have 40 copies of Halo 3 that I want to sell for $30 each.
I will ONLY take phone orders for these. If you want a copy for $30, then hit me up. You can pick them up from my store.
805-698-5525
Location: Los Angeles
it's ok to contact this poster with services or other commercial interests
PostingID: 431138845
posted by Ricky @
3:52 PM
Sunday, September 23, 2007
My new favorite thing to do on Earth...

Is drive in the car with Kayla. You might be asking yourself why. Well, it's because she FINALLY sits in a forward facing car seat. With Brielle just moments away, we put Kayla's new car seat in the rear passenger side seat. (So Brielle can have her car seat in the middle) That way, when I'm driving, all I have to do is look over my right shoulder to see her. It's like a dream come true. I love rolling the window down and watching the wind blow her soft, bright, 16-month old blonde hair. And since facing forward is completely new to her, so is sitting near a window. It's like she's seeing everything in the world for the first time. She gets so excited when she sees people walking their dogs, other cars, and buildings zoom by her. Sometimes she'll yell "DADA!" because she wants me to see what she's seeing. The words I'm writing here cannot describe how absolutely wonderful it is to finally be able to see her when i drive. She already knows what "Do you want to go for a drive?" means. She gets really excited and does a little feet stomp because she can't contain her emotions when I ask her. All in all, she's pretty perfect.

My team may have not won in flag football on Saturday. And I certainly didn't have my best game. But I didn't suck anywhere NEAR as bad as Rex Grossman.



posted by Ricky @
7:50 PM
Friday, September 21, 2007
Sometime in June I stopped following caring about baseball.

But before I did, I thought of a clever sign to bring to an A's game. With all the talk of Human Growth Hormone (HGH) in baseball and professional sports, I came up with this: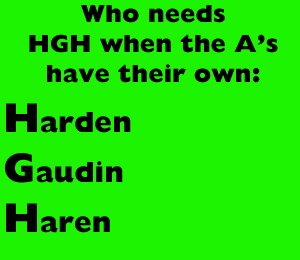 posted by Ricky @
3:11 PM
Thursday, September 20, 2007
Waiting for Brielle to get here is hard work.



Nicki is dilated to one centimeter, and Brielle has "dropped". So literally, labor could happen at any moment. The problem in the meantime is telling everyone at work and church the same thing every day. "No, not yet. We're waiting, but nothing yet". That, along with the HORRIBLE sleep I'm getting because Nicki is tossing and turning all night because she can't get comfortable, is making these final few weeks really difficult. Nicki can barely walk, Kayla is becoming MORE active, so it feels like I'm starting my second job of the day when I get home from work. I just want Brielle to get the hell out of my wife. I'm ready for her. I imagine her with brunette hair and a really funny sense of humor. We'll see if I'm right.

On the music scene, "Crocodile" is the new single by one of my favorite bands, Underworld. You can hear the song here. (it's my myspace page, the song automatically starts) The song is perfect. I've listened to it about 30 times and it just keeps getting better and betterer. You should give it a listen.
posted by Ricky @
3:43 PM
Monday, September 17, 2007
I spilled butter on my shirt today.
posted by Ricky @
3:00 PM
Saturday, September 15, 2007
Kayla got some new bling.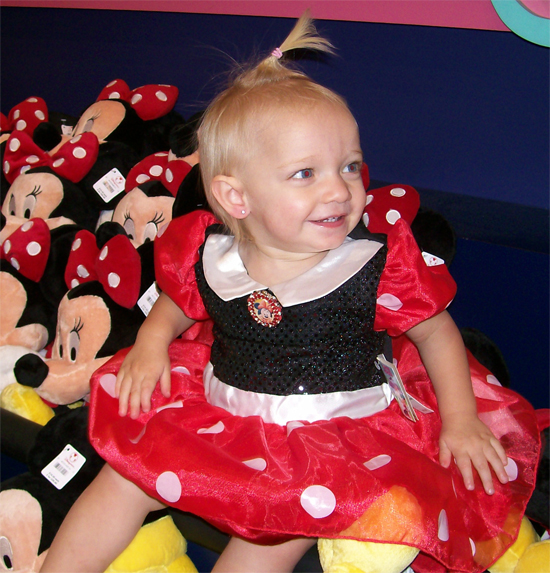 posted by Ricky @
10:24 PM
From the "People that should never sit next to each other" department...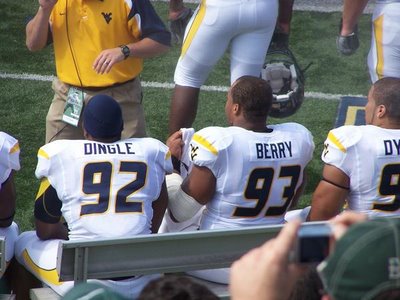 posted by Ricky @
2:48 PM
Friday, September 14, 2007
Random Post. I have a few things to say that have nothing to do with each other.

First, there's this:



I'm not sure I even think it's funny, but it's worth a look.

Second of all:

Dear Baseball,

I don't think I like you anymore. Meaning I don't think I care as much about you as I once did. Maybe it's because the A's sucked this year. Maybe it's because the season is long and trying to keep track of everything is hard. Maybe it's because I'm tired of the A's having to get rid of their best players because they can't afford them anymore. Maybe it's because Roger Clemens has been paid upwards of $20 Million dollars the last 3 years to play HALF OF A SEASON. Maybe it's because performance enhancing drugs are taking away the integrity of the game. Maybe it's because it's all about the money to the players, and no one is loyal to their team anymore. Maybe it's because football season is so much more exciting and intense. Maybe it's all of that combined. But I definitely don't like you as much anymore, baseball. I hope there's no hard feelings. But you're going to have to earn my admiration back.

And finally, now that Nicki is dilated, I am REALLY excited about Brielle being here. She can't come fast enough.
posted by Ricky @
8:45 PM
BREAKING NEWS

Nicki is dilated to 1 right now. Meaning we can have Brielle any minute now, or 3 weeks from now. I'll keep you all posted.

posted by Ricky @
9:06 AM
Wednesday, September 12, 2007
ME. DITKA.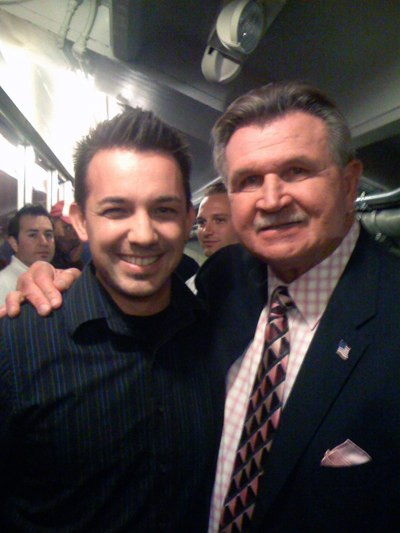 posted by Ricky @
4:00 PM
Tuesday, September 11, 2007
For a night, I was a God.........

There are precious few things on God's green Earth that are better than being on an NFL field before kickoff. Just being in such close proximity to all of that testosterone, ignites a very deep carnal "caveman" feeling inside of me. I feel like I could run into the locker room, suit up, put a helmet on and get out there and play myself. It's a unique and intoxicating rush, and after you experience it one time, you crave it. I've got my pregame field experience down to a science. I usually arrive 2 hours before the game. The first thing I do when I get on the field is walk around the entire thing, twice. I like to look up into the stands at people, and pretend I'm better than them. Then about 45 mintues before game time, I know that the players will be coming out onto the field from the tunnel. So I position myself by the tunnel exit, and stand right where they come out. I just like to feel the Earth rumble underneath me while they run by me, high fiving each other and jawing at the players from the other team. Along with the players giving me that rush, the crowd goes CRAZY when they emerge. There's just something about hearing 60,000 people erupt in applause and insanity. After the players go onto the field I walk all the way down to the opposite end of the field to stand 5 yards away from them while they practice. The only way I can describe it is if you were able to watch Roman Gladiators "practice" killing each other will full force and weaponry. It's intense. It's powerful. It's FOOTBALL.

The only drawback to being on the sidelines is that there are always the old rich folk prowling around on the sidelines. They're usually the owners family or were invited by someone within the organization. They don't get it. They stand around and huff and puff and get irritated when the camera crews and other sideline personnel need to do their jobs. Those jobs usually include running audio and video cable all over the place, running from one end of the field to another in order to take that perfect picture of a player, and other things. These old rich people should stay in the luxury boxes.

About 10 minutes before kickoff I sprint up the stands to the press elevator, and take it up to the press box. The press box is like heaven. And not only because it's a mile high. As soon as you step off the elevator into the press area, you are greeted with smiling faces and a the aroma of freshly made gourmet food. The first floor of the press area is a rather tight area. So it is not uncommon to bump into some sort of celebrity while you are up there. And I mean literally bump into them. I've met many a sports broadcaster, actor and musician while I've been up there. And the best part about it is that I'm allowed and given the same privileges and perks as they are. Last night, Beyonce was in the press box. But the person I was most excited to meet is a man simply known by his last name. Ditka. When I realized that Mike Ditka was doing the TV broadcast, I was like a kid in a candy store. I wanted to sneak my head in the booth just to take a look at this American Icon. However once I realized that he was in the middle of doing a live spot for ESPN, I made my first of many trips to the buffet line.

The buffet line in the press box is nothing less than spectacular. 5-star meals for FREE. Last nights pre-game meal was a Mexican feast. Complete with chicken enchiladas, rice, beans, and…….Caesar Salad? I guess it's the only salad they serve at the stadium. Once you get past the main course section, you find yourself standing in front of the part of the buffet line that requires the most decision making: The deserts. Popcorn, pie, cake, cookies, and jello. It's all there in abundance. Take one. Take 4. It doesn't matter, because in the press box you are a GOD. I'm pretty sure it's all calorie free by the way, but don't quote me on that. For my first trip through the line, I took it easy and only grabbed a piece of the swiss chocolate pie. Realizing I didn't have enough arms and hands to grab a drink AND a cup with ice, I "roughed it" and took a warm soda can.

From there, you walk to your assigned seat, where yet again, you are given privileges and perks that the "commoners" out in the stands have to pay for. You receive a copy of the GameDay Program, a stat sheet for the game, and some other media related items. By the time you thumb through the magazine quickly and take your first few bites of food, the game gets underway. And this is where the only drawback of the press box takes place. The "everyone must remain quiet" rule. You see, the press box is filled with about 100 writers. So the unspoken rule is that there is no cheering, clapping, cell phones or any other potential disrupting activities allowed. There's usually one or two rookies who are on the phone with their "boys", being loud and obnoxious. Or there is that one guy who came with his friend that works in the press, that doesn't get it. This guy is easily spotted by his "F*CK (Insert opposing team)" shirt and his constant yearning to high five whoever's next to him after a big play or even a not so big play. By the end of the first quarter, that one guy is usually sent off to the overflow press seating area, which is sealed off from the rest of the press and on a completely different floor.

Halftime in the press box at a 49er game is known for one thing. Chili cheese dogs. And I'm not talking about little Oscar Meyer wieners here. I'm talking huge ballpark franks. Complete with your choice of chili, cheese, ketchup, mustard, onions and a sesame bun. I've been going to the 49er game as a press box participant for over 7 years now, and EVERY game they serve chili cheese dogs at halftime. Last night was special though. Because last night, I happened to get in line right next to the man, the myth, the legend, the DITKA. I tried playing it cool like I didn't care or notice, but I don't think I was convincing. I left him alone while he put together his plate of food. Which because he is DITKA, consisted of 318 Chili cheese dogs covered in onions, ketchup and mustard. And that was just what he held in one hand on one plate. His other plate had 19 swiss chocolate pies. Not just 19 pieces, but 19 PIES. After he grabbed his food, he lifted two kegs of Diet Coke onto his back with his right leg, and carried them upstairs to his booth. But before he got inside, I stopped him. As I stood there, I realized that he was contemplating giving me a right hook that would have knocked me through the stadium, right into the Oakland Colesium 20 miles down the road. But I gathered my composure and said "Coach, can I get a quick picture with you?" DITKA said "sure". And by "sure", I knew he meant "the only reason I'm doing this is because you mean nothing to me". I took my picture with DITKA. It was glorious. And my night was complete, even though the game was at halftime.

The 49ers ended up winning the game in a thrilling last second Touchdown run. But the glow I had after the game from my experience at the game, had nothing to do with the actual game itself. Everyone should get to have this experience once in their lifetime, even if they aren't a football fan. Because everyone enjoys being treated like a deity, even if only for a few short hours.
posted by Ricky @
11:13 AM
Monday, September 10, 2007
Seriously.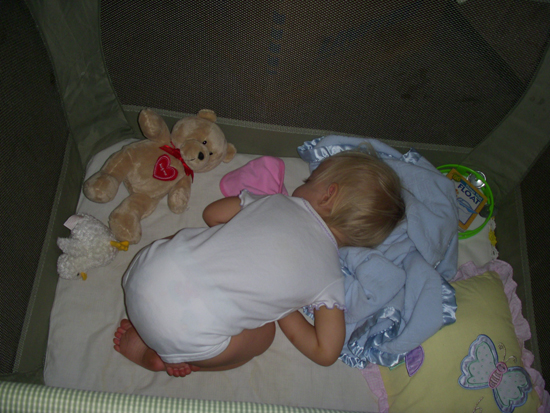 posted by Ricky @
1:25 PM
Saturday, September 08, 2007
There's NO WAY this is real. And the fun REALLY begins around 3:01.
I'm deleting Tetris off my cell phone. What's the point now?
posted by Ricky @
9:37 PM
Friday, September 07, 2007
Pick your own caption:



Caption #1:


Drew: (In a soft, romantic whisper) Yeah?
Peyton: (In a soft, romantic whisper) Yeah.
Drew: (In a soft, romantic whisper) Yeah?
Peyton: (In a soft, romantic whisper) Yeah.

Caption #2:
Drew: No. You kiss me.
Peyton: No I'll kiss you if you kiss me.



Caption #3:


Drew: You played really good tonight.
Peyton: So did you.
Drew: (In a soft, romantic whisper) Oh yeah??
Peyton: (In a soft, romantic whisper) Yeah.



Caption #4:


Drew: Just let my right hand go where it wants.
Peyton: I'd like that.
Drew: I know.
Peyton: (In a soft whisper) I'm scared.
Drew: Don't be.



Caption #5:




Leave a comment and make up your own caption!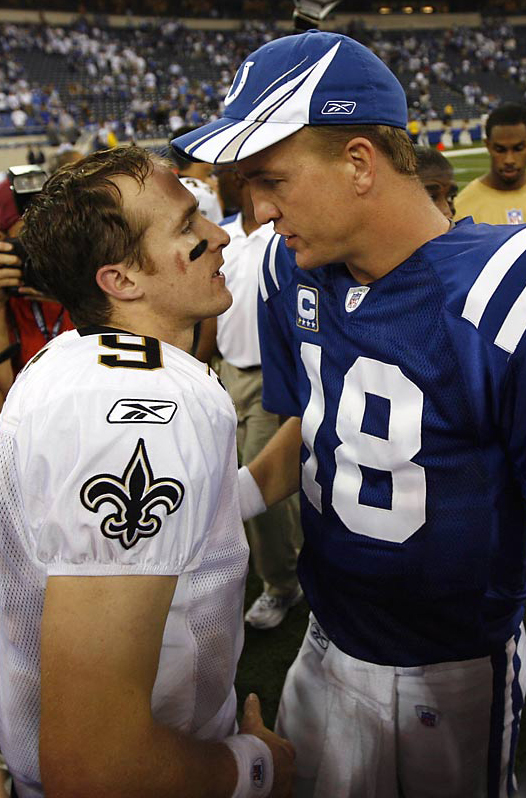 posted by Ricky @
8:21 PM
Wednesday, September 05, 2007


Ricky:
I'll take "Games Your 16-month Old Daughter Will Think Are Funny" for $2000 Alex.

Alex:
ANSWER: She will get a huge kick out of it, and most likely keep trying to do it again and again.

Ricky:
What is "Come up to you when you're not looking or least expect it and hit you in the balls really hard?"



Alex: CORRECT.



posted by Ricky @
7:05 PM
Tuesday, September 04, 2007
Not that you asked, but here's my Super Bowl prediction: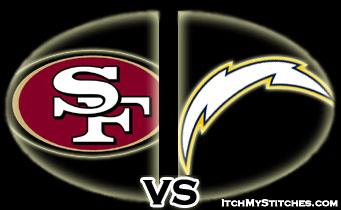 WHY NOT? Look, the Chargers are obviously going to be playing with a chip on their shoulder because of how they were bounced out of the playoffs by the Patriots last year. I would almost guarantee they are going to the Super Bowl.

The 49ers on the other hand, they're exactly who the Chargers were in 1994 when these two teams met for the first time in the Super Bowl. No one predicted the Chargers to make the Super Bowl. They were coming off of an okay season, and really had no reason to perform above the mediocrity that they were on paper. But they came out of nowhere to make the playoffs, then played with a passion and fire in them because everyone said they didn't belong.

That's how the 49ers feel. They're loaded with talent on both sides of the ball. They play in a weak division. The NFC is wide open as it is anyway, and no one is picking them to do anything. The 49ers won their first Super Bowl in 1981. Just a few short years removed from a 2-14 season. Well guess who had a 2-14 season just a few short years ago? That's right, YOUR San Francisco 49ers. I'm telling you, if you want to become a rich man come February, put $20 on the 49ers making the Super Bowl right now. At 15-1 odds, you'll make some decent cash.

posted by Ricky @
7:54 PM
Sunday, September 02, 2007
We let Kayla eat pizza by herself for the first time.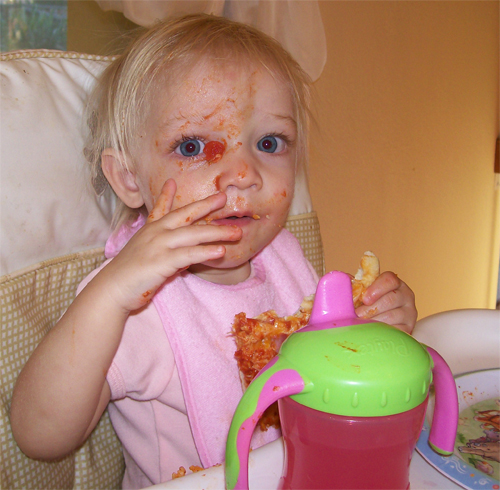 In other news, I decided to hang up my virtual cleats for All Pro Football 2K8 today. It dawned on me that I am pretty addicted to that game, probably more so than any other game I've ever played. Here's a sample of what went down today:

Me: (Turn on my XBOX 360 and get into an APF game online against someone else)

Me (About 40 minutes later): I CAN'T F*CKING BELIEVE THIS CHEAP MOTHER F*CKER. I WISH I COULD FIND OUT WHERE HE LIVES SO I COULD DRIVE OVER THERE AND KICK HIS F*CKING *SS UP AND DOWN HIS BLOCK AND THEN RIP ALL OF HIS TOENAILS OFF ONE BY ONE. F*CK!!!!!!!!!!!!!!!!!

(Followed by me pounding the couch as if it were the reason I was losing to this guy)

Kayla: (Crying. Wondering why I had to be her father.)

Nicki looks at me as if I just won the lottery and decided to give it to Bill Gates.

Me: He was using exploits! HE HAD OJ SIMPSON ON DEFENSE!!!!!!!! THAT'S NOT REAL! HE WAS ALSO SHIFTING HIS DEFENSIVE LINE IN AN UNREALISTIC WAY SO HE COULD SACK ME EVERY TIME! WAAAAAAAAAAAAAAAAAAAAAAAH.

Moments later I realized what I'd become. So I took the game out of my XBOX, gave it to Nicki and told her to go hide it. The end.
posted by Ricky @
10:00 PM
Saturday, September 01, 2007
New Design is giving me fits.


The sad thing is that I've been doing the redesign for my webpage for over 6 hours now. The first 3 hours were spent trying to recover my entire website after I accidentally deleted all of the settings. Anyway. I'd be happy as a blind man at a "learn to see out of your nipples" convention if I could just figure out how to get that gray background removed from my header image and nav bar at the top of the page. If someone was holding a gun to my family's head and told me I had to fix that or they'd all die, I'd be living the single life again.

If you have any suggestions, please let me know. I've spent over 3 hours trying different ways to get it to work. It's 12:45. I give up. I can't anymore. My pancreas.

In other news, I applied for a job that if landed, will be the best job I've ever had. It's in Sacramento. I want this job almost about as bad as I want to watch Jessica Biel to come over to my house and tell me that she's been reading my website, seen my pictures, and wants to not only marry me, but be my servant.

Almost

as bad I said.

Nicki is asleep, snoring, on my lap right now. Sometimes when I stay up late she kinda sleepwalks and will come find me wherever I am (unless I'm hiding in my special place) and want a hug. Then she'll just kind of doze off and I'll have to carry her to bed. But considering she's about 160 pounds right now carrying my child, I think my only choice is to leave her here on the couch.

My record in All Pro Football 2K8 is 27-29 right now. But, the last two weeks I'm 15-3. I had a team full of overpaid and under-talented selfish jerks on the first team I created. Then I switched things up a bit, fired the coaches, got better looking cheerleaders and picked up some studs. I'm virtually unstoppable now. By the way, APF is a video game. Relax mom. I didn't hire cheerleaders.

Umm, I think I'm pretty hilarious right now so I'm going to keep going with this. Kayla had the absolute worst day of her life yesterday. She bashed her head on our bed post, fell and scraped both of her knees, got her hand stuck in the old VCR that we have in our room, slipped on the hardwood floor where she spilled her juice and hit the back of her head when she fell. All in all the Doctor's say she is doing fine and that the uncontrollable drooling should stop around Christmas. Just in time for family pictures.

My fantasy football draft is tonight at 8:30 and I can't wait. I'm not going to pick with my heart this year. I'm in it to win it.

Okay. I just got really tired all of a sudden. Good night.

posted by Ricky @
12:42 AM