RickyRadio
Click a Fett For
a Special Message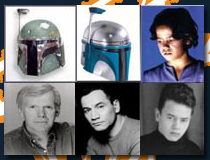 Links
Best Of My Website
Monday, November 27, 2006
I just thought of the easiest way in the world to steal a car...




Especially in these cold months. All you have to do is walk around your neighborhood at, say, 7am or so. Tons of people walk outside, turn their cars and heater on, then go back into the house and let the car warm up while they finish breakfast or whatever. It's fool proof. All

you

have to do is open the car door and drive off. You're welcome

posted by Ricky @
6:23 PM
Saturday, November 25, 2006
I have no voice...

Between the Thanksgiving Turkey Bowl, and the Prodigy concert last night, I've killed about 85% of my voice. If I whisper, it sounds fine, but once I try and say a sentence with more than 5 or 6 words in it, I sound like I'm 13 again.

About the Turkey Bowl. More importantly, about the flag football games I put together twice a month. I have an unenviable position. I organize all the games, and I'm in charge more or less of making sure that the mood of the game reflects that of our Church (Crossroads, my church, is the "sponsor" of our flag football games. At each game, we pray before the game, at halftime, and at the end. And at halftime I try to say something about my walk with Christ, and about Crossroads) so that all of us hot tempered guys don't turn it into something it shouldn't be. I enjoy putting on these games, and I enjoy playing in the games. So my unenviable position, especially on Thanksgiving, is that of trying to make everyone happy in terms of playing time. Most of the time we get about 20-25 people out there for a game, and since you have 11 people on the field for each team at one time, usually everyone plays offense

and

defense the entire game. On Thanksgiving however, we get about 50 people out there. And sure enough, every year, I start hearing it from people that they're upset because they don't feel like they're getting enough time to play, or they don't like the position they're playing. But when you only have 22 people allowed on the field at one time, and more than 20 people on the sideline waiting to get in,

you

have to take the responsibility for

yourself

to sub yourself in, and play the position you want. I can't be responsible for being your personal spokesperson. What really drives me crazy though, is that people that complain the most are the people that never or hardly play during the the other 10 to 12 games I organize during the year. So look, if you're reading this, and you play on Thanksgiving with us, just know that

that

particular game is always attended the best, and if you want a lot of playing time then you should make it out to some other games.

Now, about the Prodigy concert. I've never been to the Fillmore before. I thought I'd had, but I was remembering having seen the Crystal Method at the

Warfield

. The Fillmore only holds about 1000 people, and being one of the first people in line and subsequently one of the first people on the concert floor, I was in disbelief as to just how close to the stage I'd actually be. The concert started at 9pm with some DJ I'd never heard of. But he was actually really good, and the last 10 minutes of his set were the best

of

his set, so it completely got the crowd ready for Prodigy. When the lights finally went black, and the stage lights came on, the crowd went crazy. You have to understand that the Prodigy is based out of England, and they hardly ever tour the U.S. In fact, they are only playing two shows in the U.S. right now, and last night was one of them. It had been 9 years since they were in the U.S., so it was crazy-mad yo. They started their set off with "Wake the Fuck Up" which is a great song to get the crowd going. Being about 10 feet from the stage was completely nuts. The music was so loud, and everyone had so much energy for them that I can't remember being at a more energetic concert in my life. Not to mention the Prodigy is my favorite band. Anyway, they did about 20 songs, and ended up playing for a good 90 minutes. They put on an "awesome" show, and I was more than overwhelmed and happy at the end of it. I would pay $50 to see them once a week.

Freals

.

Cereally

. During the concert, as there is at every concert, there were a few drunk/stoned/on some sort of acid trip people that were really making it uncomfortable for Nicki and I, and another couple that next to us. Good thing for me, was that guy from the couple next to us was a pretty big guy, so we kind of had this unspoken bonding moment that if anyone was being a

nuisance

, he and I would toss them aside. So a few times he and I grabbed a couple guys that were being huge pains in the ass, and threw them as hard as we could into the mosh pit, or as far from us as possible. One guy got up and thought for a second that he was going to do something, but he ended up wising up really quick when he saw that it was

two

guys that threw his sorry ass. My overall experience last night, out of 10, would be a 17.

posted by Ricky @
10:07 AM
Wednesday, November 22, 2006
Download this clip first, before you read this post......
So now that you know how 2Pac says "Streets of L.A." my post will be more fun to read.

I've been gone for about 5 days....

Saturday I went down to Long Beach for training on some software I use at work. The name of the program is irrelevant, but if you're really that curious, it's called Mapinfo Anysite. Go look it up. So the story goes like this: I was supposed to go

this

Saturday, so I could see the Prodigy in concert in Long Beach. (Don't worry, I'm still seeing them in San Francisco, but I was going to see them the very next day) Anyway, training got pushed forward a week, so I had to change my flights and hotel, which meant I was basically going to Long Beach on Saturday without anything to do now. My new/old friend Dana was kind enough to pick me up from the Airport and shuttle me around town Saturday and Sunday. I had nothing else to do and didn't know anyone, so I really played up the "woe is me" card. I think it worked because she paid for one of my meals. :) And, I murdered one of her stuffed animals. But if you see Dana, don't ask her about it, as it was very traumatic.

So back to the title of my post, the streets of L.A. portion. While there, I went to the mall with my co-worker that flew in Sunday night. We went to this really uppity mall of which the name of this mall eludes me right now. Wait, to back up a second, on my flight down to Long Beach, the airport security people made me throw away my toothpaste, razor, and shaving cream. So while at this mall, I was looking for a little Walgreens or some store like that to purchase said items. This mall didn't even have a Target. I was S.O.L. So I ran across the street to the CSV pharmacy to purchase my toiletries. And on my way out, while I was running on "the streets of L.A." I mis-judged the curb height, and tweaked my ankle. So, I got hurt on "the streets of L.A.". It was awesome. I got hurt on the very same streets that Eazy-E, Dre, Tupac, Snoop, and a host of other Rappers that I like, grew up and got hurt on

themselves.



My ankle is fine now, and I'm ready to become the M.V.P. of the Turkey Bowl tomorrow. I think I'll dedicate my trophy and performance to overcoming the pain I experienced on "the streets of L.A."

posted by Ricky @
5:08 PM
Wednesday, November 15, 2006
I'll be damned if this movie doesn't look really really good.

But I'm not going to tell you what movie it is, because you probably won't click on it if I do. Just watch the whole trailer. You'll be happy you did.


Click Here

posted by Ricky @
7:54 PM
Tuesday, November 14, 2006
A few things about right now...
1. i think tracy morgan is my all time favorite snl cast member. ive thought about this long and hard. will ferrell is a close second, but it just seemed that any character tracy did was funny. and plus, his voice and inflections are hilarious too.
2. i don't like college sports. at all. any of them.
3. my favorite flavor of gatorade is lemon. however i dont like lemon flavored things typically.
4. on that note, i dont like sour cream or onions, at all. but i love onion dip. which is sour cream and onions put together.
5. i don't like when people make statements like "we should meet for dinner sometime" if they don't intend on ever following through on it. if you don't mean something, don't say it.
6. i really think ill be famous someday. i would thrive as a cast member on snl.
7. this morning i woke up to bon jovi on the radio and i felt cool.
8. my legs are warm because a laptop is on them. (that grammar is horrible and i don't care to fix it)
9. i should be in bed.
10. kayla is the best thing to ever happen to me. she's perfect.



posted by Ricky @
11:47 PM
Sunday, November 12, 2006
Dear Tommy Ascencio,



I know you come to my website. So I know you'll read this.

The Lions suck. They always

have

sucked. They

do

suck. And they always

will

suck. The 49ers may have gone through a few years of "growing pains" recently, but as you can tell after we whipped your Lions today,(by the way, Frank Gore would have went well over 200 yards rushing if he didn't sit out the 2nd half) that we are definitely headed in the right direction, and your Lions are doomed to failure yet again this year, and the next, and the next, etc etc. Why don't you guys draft another wide receieve in the draft this year? That plan has

really

worked for the Lions. Oh, and where is your boy Joey Harrington? Gone. He's horrible, and he's stinking it up in Miami now too. Anyone that was ever a Detroit Lion can't get rid of the stink once they leave. Or once they're cut, as the case may be. Just be happy that the city of Detroit can

host

a Super Bowl. Because the lions will

never

be in one.
posted by Ricky @
5:42 PM
Tuesday, November 07, 2006
Nicknames that I, Richard John Borba, have had:

Borbs
Borbachev
Barbiery Sauce
Dick John
Dick
Slick
Slick Rick
Slappy
Slap Dick
Shaft
Dirka
Rinchenzo
Ringy
Rijub
Boobie
Richie
Lucky B
Rickolas

Copernicus or Ebenezer (I can never remember which one was mine)
And tons of affectionate ones like "babe" and "sugartits"
If you can think of anymore, leave them as a comment.
posted by Ricky @
8:54 PM
Monday, November 06, 2006
Father Abuse!



posted by Ricky @
6:58 PM
Sunday, November 05, 2006
YES!



I'm going to see them the day after Thanksgiving in San Francisco! They're only doing two shows in the United States, and SF happens to be one of them. I'm in shock right now. I haven't been this excited since I got into a fist fight with Gregory Hines. I could kiss your mother right now! And if you have no idea who "they" are, then you should click the picture.


posted by Ricky @
3:42 PM
Saturday, November 04, 2006
I changed color scheme a bit. I hope you all like it.
posted by Ricky @
6:46 PM
Who is that handsome man on the left?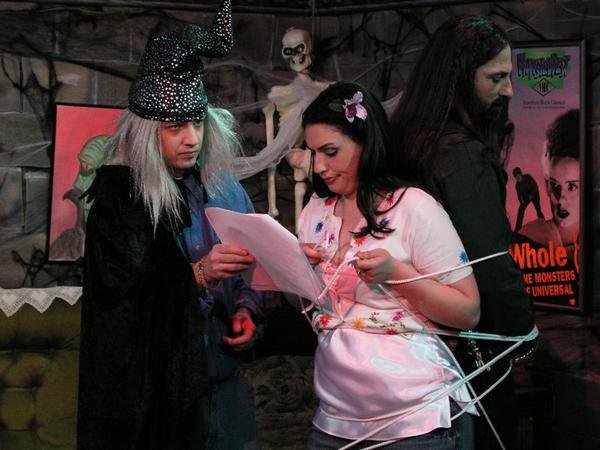 posted by Ricky @
12:38 PM