RickyRadio
Click a Fett For
a Special Message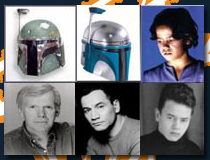 Links
Best Of My Website
Thursday, February 19, 2009
Excuse me, do you know which way the weight room is?



I'm 31. I see pictures of me at 21 and I cry. I see pictures of me from 6 months ago, and I think, Man, I was doing good for a while with the eating of the healthy and the exercising of the body. So now, on February 19th, 2009, I weigh a thick 168.5 pounds. I know, to some, that doesn't seem like much, but to me, it's out of hand. I weighed 174.5 when I moved to Lincoln last January, and got down to 159 last year just by eating healthier and running/biking. Now I'm back up to 168.5, and I'm not happy about it.

I can't complain though. (Even though I am kinda, huh.) My diet for the last couple months has consisted of about 4 gallons of soda per week, a lot of chocolate, doritios, pasta and pizza. Add the fact that I quit exercising, cold turkey, and you've got yourself a recipe for a nice little weight gain. I had deceived myself that I was looking pretty good, until Nicki got that damned 10.2 megapixel Nikon camera and took a few pictures of me. I looked at them and said "I think your camera is broken." And she said "You can't compare yourself to 10 years ago". Then I said, "Oh yes I damn well can." And she said, "You're still hot". And then I said "Honey I look like I ate a hobbit". And then she said "Oh, that reminds me, your mother called".

My point is, after seeing myself in those 10.2 megapixel pictures, I realized that while I am definitely not "fat", I am positively out of shape and soft around the edges. Lets face it people, I'm lazy when it comes to my body. So....

Yesterday I ran 3 miles, then did some crunches, then rode another 8 miles on the bike. I felt good. So I decided to keep that up. Not only that, but on Tuesday, Thursday and Saturdays, I'm going to go to my friend Justin's house and pump iron with him. My goal is to lose 15 pounds by the time I leave for Africa on May 17th. Almost exactly 3 months from yesterday. The reason I'm posting about it, is many:

1. When people see me, I want people to ask me how my workouts are going.
2. I want to look better in pictures.
3. I have sweet hair.

Reasons I feel like this time I'll be able to follow through this time:
1. I posted about it and now you're all aware of the fact that I'm trying to get in shape.
2. I do feel a sense of "my body is getting older and I need to start taking better care of it".
3. I have two precious baby girls that I'd like to be with for as long as possible.
4. Jackson Perdue did it, and he can't one-up me.

Reasons I feel like I won't follow through with it:
1. My schedule. With school, work, homework and daddy duty, I could see myself getting burned out.
2. I've never followed through before.
3. Pepsi is going to use real sugar instead of high fructose corn syrup in Mountain Dew from March to June, and they said it will taste even better.
4. I have sweet hair.

So that's it. The gauntlet has been thrown down. I've got a workout calendar, a workout buddy and some super sweet workout gloves. As of right now, I'm pretty pumped. (Pun intended). If things work out (again, pun intended), I'll post my before and after pictures in May. I'd post them now, but if I end up not making it through, I would have posted a hideously ugly and unflattering picture in vain.
posted by Ricky @
4:05 PM
Monday, February 16, 2009
Dear Waitress at Tahoe Joes, I'm not sure I liked your tone...



Tonight Nicki and I went out to dinner with some friends of ours from the bay area, that are contemplating moving to Lincoln/Roseville. Nicki and I had spent the entire day cleaning, so by the time they arrived at 5pm, it was a welcome break. After chatting for a bit in our house, we all piled in the car and headed to "Tahoe Joes" (because the Cheesecake there is better than making love to my wife while simultaneously winning the lottery as Tony Bennett seranades us). After having some more chit chat, TJ informed us that Sandy's work was paying for the dinner, as part of their effor to woo her and TJ out to Roseville. (Her work gave her the company credit card for the weekend and told her to eat, drink and be merry). After hearing the wonderful news that dinner at an expensive restaurant was going to be free, I proceeded to order the most expensive item on the menu. Seriously. It's called the Tahoe T-Bone, and it's half New York Strip and half Filet Mignon. (I didn't know such deliciousness was even possible, but apparently some scientists figured out how to have two completely different steaks on the same cut, separated by a bone).

Fast forward to about 3/4 of the way through the meal, and I'm cutting one of the last bites of New York Strip from the bone. I dip it in ranch dressing (because really, who doesn't dip their steak in ranch?) and proceed to bite down on what I assumed was going to be a tender, juicy morsel of steak. What I got instead was a shard of bone stuck to the roof of my mouth, in-between upper anterior numbers 10 and 11. Instant blood, and it hurt. So I think I yelped in some sort of sissy manner, then grabbed the cloth napkin on my lap and began to treat the wound. Just then, the waiter came by, so I took the white, blood-stained napkin out of my mouth and asked him for some warm salt water, so I could take it to the bathroom and gargle with it. He looked perplexed, so I explained that thanks to the Tahoe T-Bone, I had an open wound in my mouth and it needed treatment immediately before I would die from dysentery. Moments later, he brought out a piping-hot, calistoga hot springsesque glass of salt water.

I got up, holding my volcanic temperatured glass of salt water, burning my hands deeper with each passing second, and headed toward the bathroom. As I turned the corner, a waitress whom I could only imagine had been watching me carry the glass from my table, literally jumped in front of me and said: "Where are you

going

with that?" (Raise your inflection on "going", as to make it seem like I was mentally retarded in the way you ask). I had to stop, swallow the blood saliva that I was

planning on

spitting out once I got to the bathroom, and reply with "I took a bite of steak and a shard of bone got stuck on the roof of my mouth. I'm going to go rinse with this now". To which she replied, "Ohhhhhhhhh, I'm sooooo sorry!".

As I rinsed and spit in the bathroom, I started thinking about what exactly she may have thought I was going to do with that scalding hot glass of salt water. I guess it was a fair question, but I didn't understand why she asked me in the manner she did. It's not like I was shirtless, carrying a dead squirrel to the bathroom.

Anyway.
posted by Ricky @
9:49 PM
Wednesday, February 11, 2009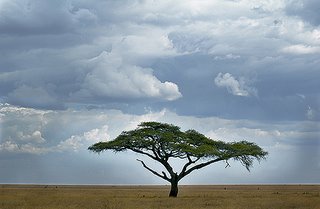 I am going to Africa!



2008 was an incredible year for me. It started off with Nicki and I moving to Lincoln in order for Nicki to begin her Chiropractic career. In the midst of that, I found a job doing video production at a Rocklin based company. We thought we were about to soar. Unfortunately, just a few months in for both of us, it became readily apparent that neither Nicki's nor my job were what they were billed to be. Long story short, I ended up getting laid off in May, and Nicki quit that practice to move onto another in December.

Along the way, I had applied for over 52 jobs from May 3rd to July 11th. I applied for things I was qualified for, over qualified for, not that qualified for and everything else in-between. Not one of them replied to me. Nicki and I were pretty discouraged to say the least. Our bank account was negative, and our rent was due. Things were pretty bleak. But something happened on July 11th. I drove back to Fremont to get some financial help from my church that we attended while living in the bay area. I went to breakfast with the pastor, and had one of those life altering moments. Over the course of pancakes and a few beers (just kidding about the beers), I heard God speak to me. I called my wife and my mother to see if they were on the same page with what I heard God speak to me, and in fact they were. My wife and mother, both without prompting or baiting, said the same thing God said. I needed to realize my calling in life, and become a pastor.

I started attending William Jessup University in August, just 4 short miles from my house. Turns out there may have been other reasons Nicki and I chose to move here, even if it was unknown to us at the time. WJU is a 4 year Bible-based College. I am enrolled in the Pastoral program and in 3 years (because I already had a year of Junior College under my belt! Wooohooo!) I will have a bachelor's degree in Pastoral Ministry AND Bible/Theology. For the first time in my life I feel like I'm at the right place at the right time doing the right thing.
Another incredible thing that happened to me this year was the unexpected and unbelievable desire to go on a mission trip. I know, Ricky Borba, going on a mission trip. Who would have thought? I was sitting in our school's bi-weekly church service while running the sound and light board. A student came to the podium to speak about mission trips (a speech I've heard 1000 times before) and I felt moved. I was totally caught off guard, and before the 2009 mission trip locations were discussed, I again heard God speak to me. "Africa". Normally I would have had a little dialogue with God, like "Are you sure you have the right guy here? ME?" but I didn't. I felt like I was being called. And sure enough a few minutes later, Tanzania, Africa was put on the screen as one of the places our school was going.

So now I'm on this incredible journey before the journey, of getting everything in order so I can go to Africa and help out those in need. I want to be a light to those people, and to serve them the best way I can, for three weeks. I have no idea what and how God is going to use me for, but I know that I can't wait to get there and show Christ's love through my actions. I've never been the type of guy to get my hands dirty (I've never been a fan of the outdoors and I'm not the type of guy to work on cars and stuff) but for some reason, none of that matters when I think about doing a mission in Africa. I want to get filthy for the Tanzanians!

If you've read this far, I want you to know the reason I sent this letter to you is because I believe you can help support me in one of three ways, or possibly more.



The first way you can help is simply by praying.

I need prayer for myself as I prepare for this incredible opportunity, I need prayer for my family as I will be leaving them for three weeks, I need prayer for finances so that I may go on this trip, I need prayer for me as I try to balance being a father, husband, student, employee and now mission trip attendee. Above any other need, I believe this is the most important way you can help me.



The second way you can help is by visiting my wife and kids if you live near my family.

I'll be leaving for 3 weeks, so my hope is that some of you who live nearby can go to my house and visit, to keep all 3 of my girls company. It's hard enough raising two kids with two parents, and Nicki is going to be all on her own for 3 weeks. So if you live close to us, please give Nicki a call and check in on her. While in Africa, I will only have access to internet twice during the entire trip, and no access to a phone at any time. I would like to know that before I leave, some of you have committed to making sure my family will be alright.



Finally, I need your financial support.

This trip is expensive. The amount to go is roughly $4000. The only way I'll be able to go is if God provides a financial way for that to happen, as Nicki and I simply do not have the funds to finance this ourselves. I want you to prayerfully consider donating (it's a tax write-off by the way!) I feel 100% certain that God wants me to go to Africa. There isn't any doubt in my mind. So please pray and consider whether or not you can help me out financially. If you can, and would like to, please click this link, which is a pdf file that you can print out and use to mail a check to the school. The amount you donate goes toward my "account". It's also tax refundable! (Don't write the check out to me though!!! Make it out to William Jessup University. All of the this info is on the form by the way) We are doing fundraisers and a couple of other things to raise money, but the primary source for everyone's funding is coming from this letter.

In closing, most of you know that this is extremely out of the ordinary for me, to travel and get my hands dirty. I can't even really explain it myself, but I heard a song that I think perfectly exemplifies how I feel about this mission trip. The song is called "Give Me Your Eyes" and it's about wanting to have the eyes of Jesus if only for a moment, to see the world as he sees it. Here is the chorus. I hope it inspires and touches you as it has me.

Give me your eyes for just one second
Give me your eyes so I can see
Everything that I keep missing
Give me your love for humanity
Give me your arms for the broken hearted
Ones that are far beyond my reach.
Give me your heart for the ones forgotten
Give me your eyes so I can see
posted by Ricky @
5:59 PM