RickyRadio
Click a Fett For
a Special Message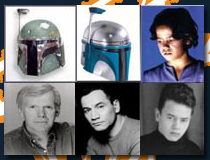 Links
Best Of My Website
Thursday, July 28, 2005
I'm back...



Kind of. At least I have a connection, although with the rate of speed I'm at, I might consider hooking up my old 14.4 dial up modem instead. So here's a picture of Robin Williams with some guy I don't know.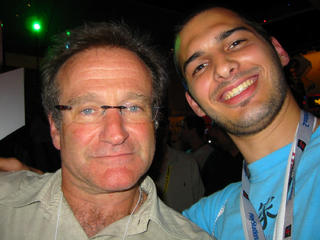 posted by Ricky @
9:53 AM
Tuesday, July 26, 2005
Comcast outage.



Apparently my area is in the midst of a high speed internet outage, since Sunday morning. I have a tech scheduled to come look at my house on Saturday. I called Monday. My appointment is Saturday. Thanks Comcast. Hopefully they will figure out their problem before then so I can be back online. Until then, I I'll only be able to check my mail and update my website when and if I'm at work.
posted by Ricky @
12:52 PM
Saturday, July 23, 2005
Best. Results. Ever.



This is right after I was getting less than 56kbps. So I put my cable modem in the freezer for 10 minutes to cool it down on this hot day. And viola', 100 times faster than a 56k modem.
posted by Ricky @
5:10 PM
Girl of my dreams......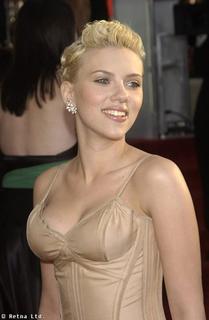 Apparently I really like Scarlett Johansson. I've had two dreams about her in the last 5 days, and I never dream about famous people. Plus, the only thing I've ever seen her in is "Lost in Translation", although I do want to see "The Island" asap. I've never even had a star wars dream, so.......whatever that means.
posted by Ricky @
9:10 AM
Friday, July 22, 2005
just cleaned up the backyard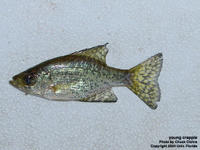 So why is there a picture of a fish? Because. As I was mowing the lawn and raking and throwing away a ton of shit back there (literal shit, and figurative) there was this green plant that covered about a 10 yard square patch. As I started mowing it, I was like "What the hell is that smell?" It smelled like a gutted fish. Well, it turns out I had a bunch of Chenopodium vulvaria in my backyard. And I'm not just imagining things either. Because my next door neighbor came outside when I was watering the front lawn and said "My God, what smells like fish?" Nasty.

Anyway, here is a quick list of the top off my head of songs that I could honestly put on "repeat" and listen to 24/7 for the rest of my life without getting tired of it:



Sigur Ros - Star Lfur




Coldplay - Clocks




Our Lady Peace - Innocent




Peter Martin presents Anthanasia - Perfect Wave




Prodigy - Smack My Bitch Up




Foo Fighters - Best of You




Breaking Benjamin - Sooner or Later
posted by Ricky @
4:42 PM
Wednesday, July 20, 2005
My wife is gone for the next 4 days....


So I went to the chinese food resaurant place around the corner, and bought some chicken chow mein. And I'm going to eat it

ALL, BY MYSELF

. That is all for now.
posted by Ricky @
6:17 PM
Cool new navigation system. Look up!


It had been bothering me for quite some time that I didn't feel like it was very clear that you needed to scroll down on the left bar in order to see the parts of my website. I'd hate for people to think my website is only a glorified blog. So I added the links that are to the left, to the top image up there. So you can navigate that way as well. I highly recommend my bio, clone trooper bob, and pics/media if you haven't seen them before. Oh, and join the forums too dammit.
posted by Ricky @
1:37 AM
Tuesday, July 19, 2005
Dear Jackson Perdue,


Just so you know...as soon as you get back from the Hawaii, we are both hitting the gym.

Hardcore

. So enjoy your last few days of freedom my friend.
posted by Ricky @
9:20 PM
Frances wrote a swear word!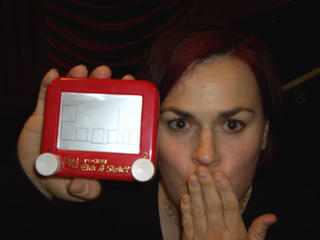 posted by Ricky @
11:31 AM
The reason for my webcam...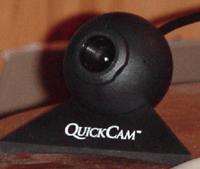 I guess it's just because when I first started using the internet way back in 1995, I was fascinated with all of the cool things you could do. Especially the Jennicam. I think she had like 5 or 6 different cameras in her house, and you could watch her eat, sleep, watch tv, etc etc. I used to have an old quickcam back in 95', and I'd s
end little pictures to girls I would meet on AOL. So nowadays I thought it'd be cool if I put one up at my desk, so people would feel like it's a more personal experience when visiting my website. I l
ike getting emails from friends saying things like "WTF are you laughing at right now?" I also like making people hot and bothered when I take my shirt off. No Antonio No!! It's too sexy!!

P.S. Kudos to Marla Bean, who ALWAYS leaves comments. That's what the link is there for people, to leave me little messages and trinkets and what nots. Marla Bean is my current favorite person ever.

P.P.S. I want to give myself some props too. Because for being the "pretty boy" that I am, I do appear on the cam without looking my best quite often. You know, like right when I get up in the morning, without having done my hair, shirtless. So consider yourselves priviledged, not many people know "that" Ricky Borba.

posted by Ricky @
9:47 AM
Saturday, July 16, 2005
Do yourself a favor and go buy or download Sigur Ros' album "Agaetis Byrjun". Wow. I put a song from it on the left in the radio.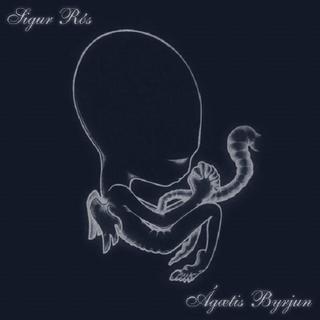 posted by Ricky @
4:57 PM
Friday, July 15, 2005
someone is doing some artwork of me. check it out!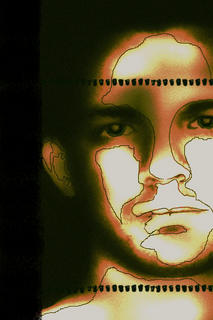 posted by Ricky @
9:53 PM
I take my shirt off, and all of a sudden i have like 53098530498543 people watching my webcam!
posted by Ricky @
9:35 PM
In honor of Matt and Stacey
(
just stacey really)



The shirt is

off

!





posted by Ricky @
9:18 PM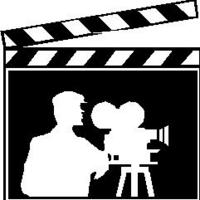 Cool news! My church hired me on part time today, (beginning in mid-August) to lead the new video ministry. I'll be making mini movies, commercials, shorts, interviews, etc. You know....stuff like that. Now all I need is something else to equal having a full-time job! But I am really pumped up right now. I have so many ideas for things to do, I don't even know where to begin.

That's all for now. GBTW.
posted by Ricky @
4:20 PM
Thursday, July 14, 2005
myspace bulletin i got. thought it was so stupid that it was actually humorous:


Date:

Jul 14, 2005 10:05 PM

Subject:

scary

Body:

WHEN YOU ALREADY START READING THIS
DONT STOP OR ELSE SUMTHIN BAD WILL HAPPEN .....

MY NAME IS ZACH SOMERS...
I AM 15 YEARS OLD
WITH NO HAIR
AND SCARY EYES.
I HAVE A TWO INCH PENIS
AND I DON`T KNOW HOW TO MASTURBATE.
I HAVE NO NOSE OR EARS.
I AM DEAD.
IF U DO NOT REPOST THIS IN THE NEXT 5 MIN.,
I WILL APPEAR TONIGHT BY YOUR BED
WITH A KNIFE AND WILL MAKE YOU HELP ME MASTURBATE.
THIS IS NO JOKE
SOMETHING GOOD WILL HAPPEN TO U TONIGHT AT 10:22. SOMEONE WILL CALL U
OR TALK TO U ONLINE
posted by Ricky @
10:30 PM
I wrote a poem, here it goes:

Your words pierce my heart like a sword
I like to push your face into the stars
Sometimes I ride the yellow bus
Who said I can't have that for dinner?

I eat otter pops before they're frozen
Russia in the winter is kind of nice
The punishment should fit the crime
Television.

posted by Ricky @
8:22 PM
Tuesday, July 12, 2005
Somedays........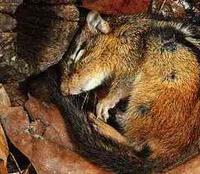 You just feel like crawling into a warm place and hibernating for a few months. This whole not having a steady job thing is really bumming me out. All I want is to do something I enjoy, and get paid for it. Just enough to pay the bills and have a few extra dollars to spend on food and other necessary things. There is a possibility that I can become the new co-host of Cal Hi-Sports Bay area, a show like High School Sports Focus. Robert, the creator and host likes my on screen talent, and the fact that I've done quite a few things in the media. However he said "You're definitely one of the last few people I have to choose from, but I'm looking for someone with more editing and camera (operation) skills. You never know though. I'll let you know when I get back from vacation at the end of July." So please, pray he has a change of heart while he's on vacation. I'd really like that job for 2 reasons. a: Because it's something I love, acting/producing, etc. and b: it's a good way to connect with high school kids, which is my ministry.

I also have an audition on Saturday for a new television network, but that won't have any funding off the bat. But I would like that to go well also, as it seems it could turn into something big.

Sometimes you just feel like crawling under a rock, then your wife gives your two dogs a shower and they start rolling around all over the place like they're on fire, in order to dry off. Then you think to yourself, life isn't really as gloomy as it seems. But seriously God, how about a job!?
posted by Ricky @
12:12 PM
Thursday, July 07, 2005
You are
Your Daddy Is OJ

What You Call Him: Pops
Why You Love Him: He takes you to Disneyland
posted by Ricky @
9:48 PM
Wednesday, July 06, 2005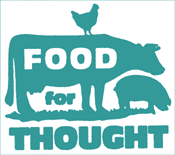 Tom Cruise and Julia Roberts are Paper Clips



I want to be a succesfull actor, so in a sense I'm talking about myself. But here's something I've been thinking about for a long time now. In life, what things are the most valuable to other people? Things like gold, silver, baseball cards, etc etc. What do all of those things have in common that makes them so valuable and wanted?

They are all extremely rare.

The more precious and hard to find something is, the more people will pay and or do to obtain it.

That's great Ricky, what the hell does that have to do with acting? Well, I've always found it ironic that the most successful and famous actors (man or woman) are those that are the most well known and often seen. They get the exact opposite treatment as something that is really rare and barely seen. The more people that see Tom Cruise in a movie, the more famous and higher valued he becomes. $25 million a picture because everyone knows who he is. So what about me? No one knows me yet. Hardly. Therefore in following the rules of the rest of the world I should be more valuable and sought after than Tom Cruise or Julia Roberts. Would you even bat an eye if I offered you something like a paper clip? No, because paper clips are everywhere. But if I offered you a baseball card from 1890, you'd take it in a heartbeat because of how valuable and rare it is.

I'm the anti-paper clip. I'm the 1890's baseball card.
posted by Ricky @
3:18 PM
Sunday, July 03, 2005
Movie

Review:

War of

the Worlds

:






Why it got 3.5 m&m's and not 5: I didn't like how Steven Spielberg wrapped everything up with a nice box and a bow-tie at the end. He did that the last time he worked with Tom Cruise too, on Minority Report. Listen, Steven, you don't need to have every aspect of the film turn out to be good in the end. Another reason it doesn't get 5 m&m's is because I felt like the movie peaked about 2/3 of the way through, during the ferry/basement sequence. I felt like the movie just flattened out after that point. Needless to say however, it was a good summer flick, and I will be buying it the first day it comes out on DVD.



The Good:

I loved how the the tripods sounded. It was very similar to Jango Fett's sonic charges in Attack of the Clones. And along with moving and looking very cool, I really liked how their frickin' laser beams turned everyone into dust. John Williams score was outstanding as usual, as he is the man.

The Bad: I didn't feel like there was enough alien stuff in the movie. I wanted to see more alien technology, and more of the actual aliens. The only time we saw them was in the basement, and that was only a few minutes. Also, it sure looked like everyone was incinerated on top of that mountain side right before Tom and Dakota found the basement, but apparently some people survived......

P.S. If all everything stopped working after all of those lightning strikes, then why was that guy able to videotape the tripod???

The Ugly:

The alien "fertilizer".



posted by Ricky @
1:22 PM