RickyRadio
Click a Fett For
a Special Message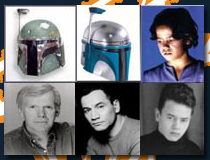 Links
Best Of My Website
Tuesday, August 29, 2006
HOLY CRAP!

I did not know that Cold Stone mixes up ice cream in order to make your specific combo. I believe I will be going to Cold Stone a little more often now, considering I've only been there once. Today. Oh, and I'm a Cold Stone killer, ya'all.
posted by Ricky @
7:31 PM
Monday, August 28, 2006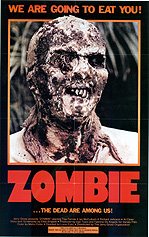 If

Kayla were to be bitten by the undead, and turned into a zombie, I would have

no choice

but to kill her.
posted by Ricky @
10:30 PM
Saturday, August 26, 2006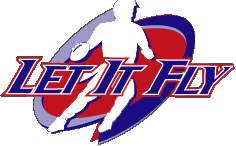 TEAM SHAKE AND BAKE

Myself, and 5 of my buddies are in the National "Let it Fly" flag football tournament. Today, we played 3 games, and are now 3-0. (Thank you very much Matt, I may not be great at softball, but 3-0 baby, 3 AND 0) We won our first game against "Chaos" from San Jose, 27-12, after being up 27-0. (They had 6 guys, and a binder full of plays. Looks like they didn't help.) If we would have gotten the extra point before the half, we would have won, before halftime, 28-0. But we let em hang around a bit. Our second game against "Hoping to win one" resulted in a 21-6 drubbing. Our opponent had 4 guys and 2 girls on their team. Come on. Girls? In a football tournament? Get serious. Our third and final game of the day we won 14-6. The team we played were all guys in their mid 30's. They were all African American, and joked that they didn't appreciate our team name. (Team Shake and Bake) I told them it was from "Talladega Nights", the Nascar movie. To which they said "We're brotha's, we don't go watch movies about Nascar". Those guys went 0-4 on the day, and drove all the way to San Jose from Stockton, to play in the tournament. I'd like to personally thank them for not going postal in their last game with nothing to lose, and taking us out by the kneecaps. They were twice our size.

So tomorrow we have one game at 10am, then we find out the playoff bracket. If we win out, we will get to play in the National Finals. TEAM SHAKE AND BAKE!



posted by Ricky @
5:00 PM
Thursday, August 24, 2006
Teh Kewl.
posted by Ricky @
2:16 PM
Tuesday, August 22, 2006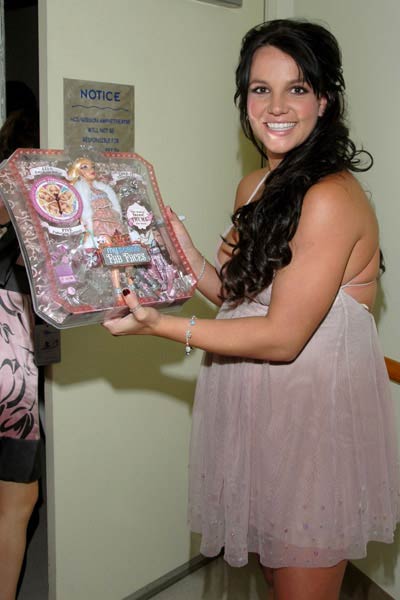 Hi. I used to be Britney Spears.


posted by Ricky @
7:37 PM
Sunday, August 20, 2006
FINALLY!

The 49ers got rid of Kevan Barlow. Good riddance!
posted by Ricky @
4:58 PM
Saturday, August 19, 2006
Dear God,

Why did you create ants and flys?

Thanks,
Ricky Borba
Fremont, CA
posted by Ricky @
10:57 PM
Friday, August 18, 2006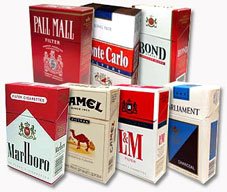 Dear Anti-Proposition 86 (California),

I've seen a few of your commercials. So let me get this straight. This is a proposition that is going to tax smokers? Specifically, people who buy cigarettes and tabacco? And you're complaining that the majority of the new taxes are going to go to hospitals? You're also upset because these hospitals already get enough money in your opinion? And you're also upset that the rest of the taxes are going to cover costs that smoking related diseases cost Californians? And you also say that this would inhibit terrorists to smuggle cigarettes into the United States because no one wants to pay more money for cigarettes?

Wow, anti-proposition 86 commercial. It sure sounds like you have a serious case of sour grapes. Also, you're ridiculous. Prop 86 was designed to prevent youth smoking, save lives, and provide health coverage to uninsured Californians. Shame on you anti-prop 86 commercials. If you want cigarettes that bad, and don't want to pay the new proposed price of $6.50 for a pack, go next door to Nevada. You can buy cigarettes cheap there. Or you can just hangout inside the casinos for about 4 seconds.

Your friend till the end,
Ricky Borba
posted by Ricky @
7:44 PM
Thursday, August 17, 2006
I woke up

very

tired this morning...

And I believe here's why. Last night I had a dream that I fought someone from the Aryan Nation. I was riding a bicycle (I say "a" bicycle, because I don't own a bicycle. Therefore I cannot say "my" bicycle) on interstate 680. I got off at Sunol, which is something I never do in real life. When I got off the freeway, it was dusk. I went on this windy dirt road that was a shortcut to getting home. However, there was someone from the Aryan Nation driving a stolen police car down the road a bit. He kept going in circles. But the really weird part was that he would turn on the sirens and lights for one revolution, then turn them off for the next revolution. He was wearing a red and gray plaid shirt. As soon as he spotted me, he stopped driving in circles and started driving behind me. Then somehow someone else from the Aryan Nation came out of nowhere on his bicycle and started chasing me.

By this time, it was dark. I found my way to a house, and tried opening the door. But no one was home and the door was locked. So I hopped back on the bicycle I was riding and rode to another house. This time the door was unlocked, so I frantically let myself in. When I entered, an Asian family was eating dinner. I started explaining what was going on as fast as I could, but they were having a hard time understanding what I what I was saying. Fortunately their daughter understood english and started translating what was going on. Then all of a sudden the daughters' American boyfriend came out of the back room and really helped with the translation.

By the time I was done explaining that the Aryan Nation was outside chasing me, about 50 of them had gathered outside the window, taunting me. Then, because it was dream, they all magically appeared

inside

the house. The house also magically widened to allow everyone to fit comfortably inside of the living room. The main guy who was giving me a hard time had spotted me, and started walking towards me. As he was walking towards me, I said "Why do you want to fight me anyway?!" And as I said that, he threw a right cross. Which I blocked of course, because again, this is

my

dream, and I'm certainly not going to get my ass kicked in my own dream. So I threw a left

elbow

and caught him on the right eye, busting his eyebrow open. We scuffled for a bit, and I remember kicking him in the ribs a lot. We eventually ended up on the floor, with me on top, pounding his face. He wasn't bleeding at all, but his face was red and swollen, and his teeth were being knocked out. He was begging me to stop, so I did. I stood up, and pulled him up by his hair and dragged him to the center of the room.

At that point, I left the house and started running down the street because the rest of the Aryan Nation was chasing me again. I hopped over a fence and found myself in someones backyard. The backyard was a vineyard. The owner of the house was watering his grapes, with his shirt off. I'd say he was about 60 or so, and way out of shape. He saw I was in a panic, and scurried me to the guest house. The guest house had a huge cigar room, and the house owner gave me 5 of his finest cigars.

The end.

So when I finally woke up from this very intense, very vivid dream, my heart was practically pounding out of my chest. So, my thought is, is that although I was sleeping, my body was acting as if it were actually living my dream. That whole dream must have lasted about 2 hours or so, I'm imagining.

posted by Ricky @
8:28 AM
Thursday, August 10, 2006
My camera is off because I am working on fixing my computer right now. It's been on the fritz lately, so I finally decided to give it an overhaul. The camera will be back on shortly people. I know how you all love to look at me.
In other news, I've moved desks at work. The bright lights and constant communication with people have really made my job difficult. I'm used to sitting back by myself all day and searching for Russian brides and how to sell my baby on the black market. Now, I actually have to work.
posted by Ricky @
12:57 PM
Saturday, August 05, 2006
This is REALLY disturbing.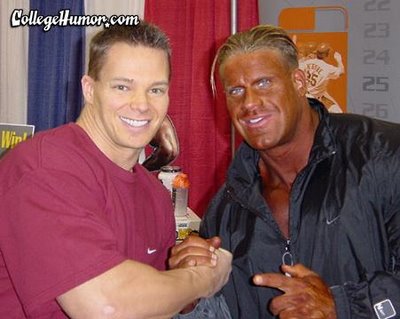 posted by Ricky @
3:44 PM
Friday, August 04, 2006
There is so much good Vader on the internets right now!








posted by Ricky @
8:45 PM
Tuesday, August 01, 2006
"If I knew having a baby was this cool, I woulda been getting girls pregnant in high school."


-Ricky Borba, August 2006



posted by Ricky @
8:37 PM